(Sweetwater) – April is Sexual Assault Awareness month, and Texas State Technical College is helping to raise awareness of sexual assault and domestic violence by partnering with representatives from Hendrick Medical Center and Rolling Plains Memorial Hospital to provide information seminars.
A session was held on the TSTC campus in Sweetwater on Friday, April 12, and more are scheduled for the summer and fall semesters.
According to the Centers for Disease Control and Prevention, one in four women and one in nine men are victims of sexual violence, physical violence, and/or stalking by an intimate partner.
Griselda Sanchez, director of Student Services at TSTC in Sweetwater, said she sees this as an opportunity to delve further into the information already given to faculty, staff and students.
"TSTC makes sure to have these discussions with everyone once they get on board with us. But, it's important for us to give our people in-depth information of how to prevent, report and help those suffering from sexual assault or domestic violence because it can happen to anyone, anywhere," Sanchez said.
Stephanie Lebowitz, trauma coordinator and emergency manager for Rolling Plains Memorial Hospital, led the domestic violence information session, while Ann Marie Willoughby, outreach clinical lead for Hendrick Medical Center, led the sexual assault session.
Lebowitz stressed the importance of empowering victims and educating residents of rural areas.
"The attorney general has recognized the prevalence of abuse in rural areas, and the lack of reporting and resources available. So, we have been given the means to educate, spread awareness and help unite communities to rally around these victims and help them," Lebowitz said.
Lebowitz and Willoughby said people think of domestic violence and sexual assault as separate, but they can be interconnected.
"Sexual assault is more common than burglary on most college campuses. I'm not saying TSTC, but at colleges in general students have a chance of being assaulted, and we want to educate them, and faculty and staff, so they can help each other," Willoughby said.
For TSTC automotive instructor John Kirchmeier, the message hit home.
"Everything they said was spot-on. It's important for us to know this information because we are with the students every day, and we may see something. We have to be the first line of defense," Kirchmeier said.
The National Sexual Assault Hotline can be reached at 800-656-HOPE (4673). The National Domestic Violence Hotline can be reached at 800-799-SAFE (7233).
For more information on Texas State Technical College, go to www.tstc.edu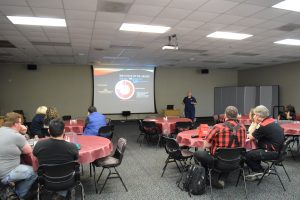 Students, faculty and staff listened to presentations about domestic violence and sexual assault from representatives from Hendrick Medical Center and Rolling Plains Memorial Hospital.