(HARLINGEN, Texas) – With manufacturing on the rise, the number of skilled machinists needed in the industry is also increasing.
And Precision Machining Technology at Texas State Technical College is working to produce the machinists needed to meet the demand.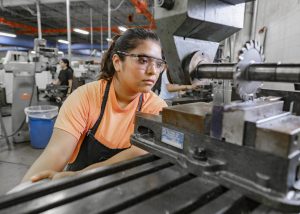 TSTC Precision Machining Technology lead instructor Isaac Gonzalez said he receives phone calls very often from local and statewide companies requesting his graduates, and with a job placement rate of 98%, many of the program's students accept job offers before even graduating.
What is the length of the program?
Precision Machining Technology offers two degree paths: certificate, one year; associate of applied science, two years.
What can students expect when they graduate?
Before graduating from Precision Machining Technology, students have the option to earn a Haas Certification, which certifies them as a computer numerical control (CNC) machinist, and a Mastercam Certification, which certifies that the student is trained and knowledgeable in computer-aided manufacturing software.
What skills do students learn in Precision Machining Technology?
Students in the program will learn skills in manufacturing programming, design, manual machining, CNC programming and machining, blueprint reading and engineering graphics.
In addition to technical skills, students will also learn soft skills such as communication, time management, and organization.
What types of technologies are used to learn these skills?
Precision Machining Technology focuses its training on hands-on learning. Students in the program have access to a fully equipped machine shop with machining tools, CNC machines, lathes, mills and precision grinders. Computer labs are also available for students to learn and practice their skills in design and programming.
How do these skills prepare a student for the workforce?
By learning these skills, students will become well-rounded Precision Machining Technology graduates who are familiar with and have knowledge about industry-standard equipment and processes. Their versatile skills and additional certifications will allow them to be more marketable and competitive when starting their careers.
What types of positions can a graduate from this program obtain?
Graduates from the program can find positions as CNC technicians, manual machinists, tool and die machinists, and quality control inspectors.
Companies that have already hired TSTC Precision Machining Technology graduates include Atlantic Tool & Die, Consulting Point, Delta Centrifugal, ITD Precision, Raytheon and Toyota.