(HARLINGEN, Texas) – The Texas State Technical College Police Department added a new police officer to its force and officially swore her in this week in a ceremony attended by her family and friends, as well as TSTC faculty and staff.
Lleana Granados is the newest officer to join the TSTC family. She graduated from the police academy in 2018, and her first job application went to TSTC.
"I've always known that TSTC has a very community-, family-oriented environment, and that's what I wanted to be a part of and do," said the 24-year-old.
With a brother who used to work at TSTC as a police officer, she was somewhat familiar with the college.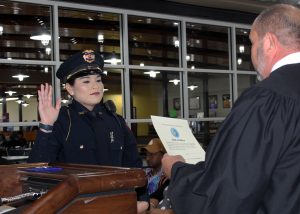 TSTC Police Chief Eduardo Patino said he first met the Los Fresnos native during the interview process and, after speaking with her, knew that she was the right person for the job.
"Working for a community-oriented police department requires a special person that can be both a guardian and warrior to the community members we serve," said Patino. "She has the competencies needed to be a police officer for our college."
Sworn in by Judge Eloy Cano Jr., Granados took an oath to serve and protect the TSTC community and she said she is more than ready to do just that.
"My goal is that anyone who steps foot on our campus feels safe," said Granados. "And I'm ready to serve TSTC under its core values of excellence, accountability, service and integrity."
Patino said Granados, who is the second female officer on the force, has already proven that she has what it takes to be successful.
"She's eager and willing to learn. So I've challenged her supervisors, as part of our succession planning, to coach her and mentor her," he said. "I'm happy to have Officer Granados as a member of the department and can't wait to see what the future holds for her."
Granados said she has always loved serving and helping others in any way she can.
"Serving is my passion, and I've always known that I could do that as a police officer," she said. "I have watched my brother serve as a police officer for TSTC and now as a state trooper, and he is my inspiration. He has been my mentor and role model through this entire process."
She added that she feels extremely proud to have been chosen to become TSTC's newest officer and is grateful that she was able to share this prestigious moment with her family.
"My family has been my greatest support system," she said. "And my hopes are that I make them proud by serving TSTC well and growing the department."
The TSTC Police Department is made up of 10 full-time peace officers.