(HARLINGEN, Texas) – Jose Luis Garcia II, 37, graduated in 2018 with an associate degree in Business Management Technology from Texas State Technical College.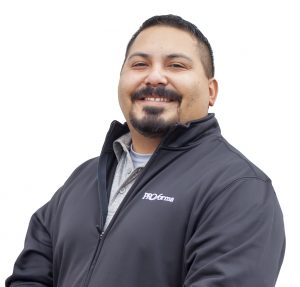 The Harlingen native served in the U.S. Air Force for nearly five years before becoming a disabled veteran due to on-the-job injuries. He was stationed in North Dakota and was on the security forces team.
The veteran decided to attend TSTC to gain new skills and a new career and credits the TSTC Veterans Center employees for his success because of the employees their assistance with veteran benefits, college registration processes and resources.
Garcia currently works as a customer service/sales representative for Proforma RGV, a creative solutions and printing service company in San Benito.
What was your reaction when you first learned about your job offer?
It was a really exciting moment for me and my family because one, it didn't take long to find a job, especially with the help of TSTC Career Services, and two, I had received a job in my field; all of my hard work had paid off.
How did TSTC prepare you for your career?
The training I received at TSTC and my instructors were phenomenal. Every faculty member worked together to help us achieve. They taught us the ins and outs of business and really laid a solid foundation. They were the ones who set me up for success.
Who has had the most influence on your success?
From my TSTC instructors to the TSTC Veterans Center staff, I have had so many people cheering me on and encouraging me to succeed, but ultimately, it was my family, my wife and kids, who took the sacrifice like champs. They stood by me, no matter what, and they are my reason why I try to continue excelling.
What are your future goals?
The company I work for offers great opportunities for growth. The owners really encourage us to excel. I would love to continue moving up, someday leading a sales team and helping the company reach its max potential. It's my training from TSTC that will allow me to do this.
What would you tell a student thinking of pursuing a two-year degree vs a four-year degree?
There is a still a misconception about two-year degrees, yet they offer a number of career opportunities, and it's technical colleges like TSTC that provide the technical training needed to help graduates be competitive in the job market. And really, an education depends on the work you put into it. Whether it's a two-year degree or a four-year degree, what comes of it, depends on the person.
What is your advice for future TSTC students?
There is more to TSTC than just its Academic Core, or basics, like students call it. It's our responsibility to explore our options and career opportunities. If it worked out for me, it can work out for others. Also, no matter what you are studying, be all in. Work hard, get involved in organizations and clubs and build your resume with experiences and leadership.