(HARLINGEN, Texas) – To earn a spot at this year's SkillsUSA national competition, Texas State Technical College Mechatronics students and teammates Ricardo Vera and Maria Lara worked diligently for six hours building, wiring and programming their programmable logic controller, or PLC, during the SkillsUSA state competition earlier this month at TSTC in Waco.
"The competition was real and tough," said Vera. "So when we found out we had received a gold medal, we were surprised. After countless hours of studying for a 104-question test and preparing for the technical aspect of the competition, it's a true honor and makes everything worth it."
It's an honor that he shares with 22 other TSTC in Harlingen students who also earned gold medals.
The gold medalists will advance to the 2019 SkillsUSA National Leadership and Skills Conference in Louisville, Kentucky, on June 24-28.
SkillsUSA is a professional organization teaching technical, academic and employability skills that help high school and college students pursue successful careers. Members build these skills through student-led team meetings, contests, leadership conferences and other activities.
Students in SkillsUSA participate in hands-on competitions in various fields such as science; technology; engineering; mathematics; building construction; and heating, ventilation and air conditioning.
TSTC Provost Cledia Hernandez said TSTC prides itself on being a leader in technical training and a vital partner in closing the skills gap in the Texas market, and that SkillsUSA, which she also calls the Olympics for technical education, is a validator of the strong impact TSTC students and their abilities have on the Texas economy.
"We are very proud of all our students and especially our gold medalists," she said. "They not only represent TSTC well, but they are a testament of our goal of student success. This award is about them and how they have demonstrated that they are ready to enter the workforce with the highest caliber of skills for their industry."
Also earning gold and competing for the first time this year were Digital Media Design students Matthew Rojas and Rafael Vasquez.
"I was so confused when we won. I had to be reassured we had won," said Vasquez. "With it being our program's first time competing and not knowing what to expect, we didn't think we'd win gold. But it was a pleasant surprise, and we're excited for nationals."
Rojas and Vasquez competed in the Digital Cinem
They were then required to present their final project for judging.
"My students knocked it out of the ballpark with this win," said their Digital Media Design instructor, Jimmy Villarreal. "Competition was strong, but we had also prepared endlessly during and after class for this competition."
Villarreal said the preparation time for nationals will double, and because of conflicting schedules, it's going to be a challenge — but a challenge that both students have accepted because they're in it to win.
"I'm not going to lie; I'm a little nervous," said Rojas. "I've never been out of Texas, and I hear there are thousands of students at this competition. But we're going to get ready and go out there to do our best and make TSTC proud with another gold medal."
Statewide, 63 TSTC students earned gold medals during the recent state competition.
For more information on TSTC and the programs offered, go to www.tstc.edu.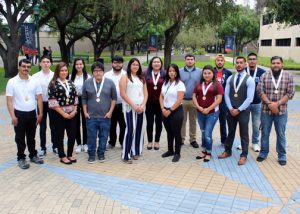 Top Row (left to right) – Ricardo Vera, Mechatronics Technology; Flavio Tello, Mechatronics Technology; Joesaline Orta, Mechatronics Technology; Rafael Vasquez, Digital Media Design; Alexandra Lugo, Business Management Technology; Gabriel Flores, Precision Manufacturing Technology; Abraham Jimenez, Precision Manufacturing Technology; Michael Garcia, Automotive Technology
Bottom Row (left to right) – Anahi Reyes, Education and Training; Matthew Rojas, Digital Media Design; Victoria Rincones; Architectural Design and Engineering Graphics; Maria Lara, Architectural Design and Engineering Graphics and Building Construction and Precision Manufacturing Technologies; Isela Rodriguez, Business Management Technology; Jonathan Collins, Architectural Design and Engineering Graphics and Marco Silva, HVAC
(Not pictured): Carlos Davila, Noah McCoy, Marco Arroyo, Iris Juarez, Christopher Garcia, Hazel Camacho and Martin Ramos