(HARLINGEN, Texas) – In a night of fellowship, scholarship and honor, Texas State Technical College recognized more than 20 students in an induction ceremony for the Phi Theta Kappa honor society on Dec. 11.
"This night is a testament to these students' dedication and excellence in the classroom," said TSTC Executive Director of Student Learning and Phi Theta Kappa advisor Sara Sanchez. "This is a huge honor for these students."
The students were officially welcomed into the distinguished honor society in a ceremony that included an oath of membership, a candlelight ceremony and a presentation of honor cords.
TSTC Health Information Technology student and Phi Theta Kappa president Natalie Hudson said the ceremony was a joyous occasion because she had the opportunity to celebrate her academic achievement with her family.
"This is an amazing accomplishment for everyone," said the 42-year-old. "Being a part of an organization like this gives me great motivation to keep going and allows us all to encourage each other."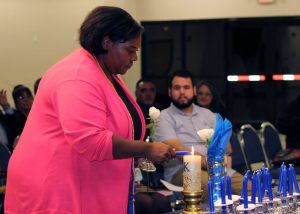 As president of Phi Theta Kappa's TSTC chapter, Beta Iota Phi, Hudson's goal is to get the organization more active around the community and to increase volunteer opportunities.
"Phi Theta Kappa is based around service," she said. "And for me that means we should do more community service to make a difference in the lives of others."
For students like Hudson to be invited into Phi Theta Kappa, they must have a 3.5 GPA or higher, 12 credit hours toward a certificate or degree, and be in good standing with the college.
"This organization promotes excellence and recognizes success," said Sanchez. "Our goal in the Beta Iota Phi chapter is to help these students grow as leaders and professionally."
The perks of being a member of Phi Theta Kappa include numerous scholarship opportunities, web trainings, national conferences, and the networking of like-minded students across the nation.
Upon graduation, students have the opportunity to showcase their membership with honor cords, honor stoles, a special tassel or medallion, and they will receive a Phi Theta Kappa seal on their certificate or degree.
"We have a great group of students who I know are going to take this chapter to the next level," said Sanchez. "It's an honor to welcome them into this prestigious organization and celebrate their academic achievement."
Phi Theta Kappa serves to recognize and encourage the academic achievement of two-year college students. It is the largest honor society in American higher education, with more than 2.5 million members and more than 1,000 chapters in the United States and across the globe.