(HARLINGEN) – Texas State Technical College and Valley Regional Medical Center have recently formed a partnership to provide workforce training and development to more than 100 employees at the hospital.
And, to ensure that every employees receives the customized training needed for advancement and success, the Texas Workforce Commission and Commissioner Representing Labor Julian Alvarez, recently presented both organizations with a Skills Development Fund Grant in the amount of $202,162.
"We are all so happy to see this partnership come to fruition," said TSTC Provost Cledia Hernandez. "This is a great opportunity for Brownsville and South Texas. This will support the skills advancement here in our region."
The training provided by TSTC Workforce Development and Continuing Education, which began a couple of months ago, is customized for 153 workers and focuses on health care, social assistance and facility maintenance.
Trainees from Valley Regional Medical Center include certified nurse assistants, registered nurses, therapists, social workers, surgical technicians and facility workers and maintenance technicians, among a few other technical positions.
Frank Acevedo, Valley Regional Medical Center Chief Nursing Officer, said this partnership has been exceptional for the hospital and its employees.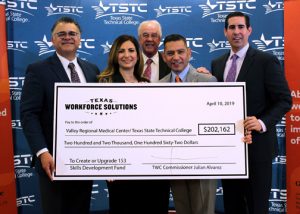 "Without TSTC and the help of Richard Mesquias I don't think this grant or training would have been possible," said Acevedo. "This training has enhanced patient care and has given our employees a deeper competency to do their jobs."
Mesquias formerly worked for TSTC's Workforce Training and Continuing Education, but was recently promoted to Senior Field Development Officer for The TSTC Foundation.
Acevedo added that he has received positive responses from his employees regarding this training because of the experienced instructors and class flexibility to ensure that everyone has an equal opportunity of attending training despite work schedules.
TSTC Board of Regent and Pharr City Manager Alex Meade, called the presentation of this check an important day for Brownsville and the workforce industry in the Rio Grande Valley.
"When we recruit businesses to the Valley it's important to already have the type of workforce they need. There's no time to wait," he said. "And TSTC makes this possible. Its grants like these that continue to attract businesses and build our skilled workforce. And it's exciting to be a part of that."
TSTC, a leader in technical education, offers more than 60 technical programs of study in addition to workforce training and continuing education.
Because of its legislative mission, the college has focused its resources and efforts on technical education and emerging technology, and filling the skills-gap that exists statewide.
Workforce Solutions Cameron Executive Director Pat Hobbs said this training is further proof of the value of a technical education. .
"It's been believed that if you didn't receive a four-year degree you were a failure in life," he said. "But this isn't true. The majority of the jobs out there are technical in nature and do not require a four-year degree."
He went on to add that with large companies coming into the region, having a technically trained and skilled workforce is now more important than ever.
"The partnerships between TSTC and industries in South Texas and statewide help promote our area," he said. "And you can expect us to continue working closely with the college in providing the workforce we need. We'll be back with more Skills Development Fund Grants across the whole region."
TSTC will be awarded two Skills Development Fund Grants next week in partnership with the Harlingen Consortium and High Demand Job Training.
For more information on the services offered by TSTC's Workforce Training and Continuing Education, visit tstc.edu/workforce/home.