(SWEETWATER, Texas) – The welding program at Texas State Technical College is training and educating highly skilled welders quickly to continue to meet industry demand.
Texas has the highest employment level for welders, cutters, solderers and brazers in the nation, according to the U.S. Bureau of Labor Statistics. And demand is expected to keep growing.
"The students come in and earn a Certification Level 1 – Structural Welding in three semesters and are trained in various welds like MIG, TIG, flux-core, stick, oxy-fuel, brazing and more," Taylor Elston, welding instructor at the Sweetwater campus, said.
As students near graduation, Elston spends time with each one figuring out their career plans and caters to their education with that in mind.
"About the third semester, we'll start asking the students which type of welding they enjoy most and where they want to live and what kind of job they want. Because in welding there are so many specializations, they can have a choice of where they end up," Elston said. "So, once we learn what they really want to do, we'll help them start preparing for that weld test so they can get the job they want."
One of the biggest appeals to the welding program for student Kelton Grigsby was TSTC's proximity to industry and dedication to job placement.
"I want to work in Lubbock, and TSTC is close to those industry leaders. There is a big need for welders. I have family in welding, so I know how lucrative welding can be," Grigsby said.
Grigsby began welding in high school. After graduating from Godley High School in 2018, he decided to attend TSTC.
Clint Faulkner also chose the welding program for career growth opportunities.
"My dad and I have been building metal buildings, carports and other structures for the past four years, and it was important that I get a refresher on my welding and get the technical skills here," Faulkner said.
After a nine-year career in truck driving, Faulkner, a Big Spring native, decided he needed a career that was more physically active.
Grigsby and Faulkner are expected to earn their certificates and graduate in August.
TSTC students spend a majority of their time in the lab with hands-on practice to ensure the technical skills, but Elston says the college is also dedicated to ensuring that students are job-ready.
"With the TSTC Career Services team helping us, we really make sure the students have not only the quality education, but also the soft skills like resumes and job etiquette," Elston said. "We make them treat school like their job; they have to show up and show up on time. So when they graduate they won't just be good welders, but also good employees."
Elston encourages anyone interested in the program to come to the campus and schedule a tour.
Registration for the fall semester is underway. For more information about TSTC, go online at tstc.edu.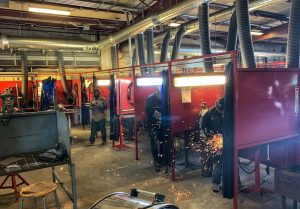 Texas State Technical College students at the Sweetwater campus practice their welding skills to prepare for high demand careers.