(HARLINGEN, Texas) – Froilan Gaitan began his college career at Texas State Technical College with the idea of transferring to pursue a bachelor's degree. But somewhere between dream and reality, he realized that a technical education could pay off big and chose to pursue Wind Energy Technology.
"This was a huge move for me," said the 32-year-old. "After reflecting on my career choice and the path I was following, I wasn't where I wanted to be. And I felt returning to TSTC could change that."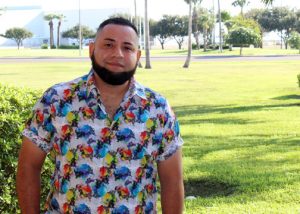 After completing his academic requirements for a bachelor's degree in sociology, he took time off from school so he could work to help his mom.
"My mom was a single mom, and my siblings and I were her top priority every single step of the way," said Gaitan. "I always told myself that when I grew up, I would take care of her the way she did us."
But odd jobs here and there were not cutting it for the Mercedes native. That's when he began doing research on different careers and their outlooks, which led him to TSTC Wind Energy Technology.
"Renewable energy is growing fast, is here to stay, and technicians are in demand," he said he remembered reading. "So I returned to TSTC and enrolled. I never looked back."
According to the U.S. Bureau of Labor Statistics, employment of wind technicians is expected to grow 57% through 2028, and because of the wind industry's rapid growth, the number of available jobs is expected to be over 6,000.
And with an average salary of around $54,000 a year, Gaitan knew this could be a life-changer.
"Nothing worth getting in life is easy, and this was one of those instances," said Gaitan. "I was barely getting by, but I kept the prize in mind, and that helped me to keep going."
As a full-time student in the Wind Energy Technology program, Gaitan worked three part-time jobs to make ends meet.
One of those jobs was at TSTC as a work-study employee in Central Receiving. Gaitan said it was there that he met TSTC inventory control supervisor Ruben Ochoa.
"Ruben was my inspiration," he said. "He would motivate me, encourage me, and get mad at me when he knew I was in the wrong. He wanted nothing more than to see me succeed, and that made all of the difference."
Gaitan said in addition to Ochoa being a positive role model, his instructors also played a huge part in his success.
"Our instructors helped us be the best we could be," he said. "They never denied us help. They led us to resources if we needed assistance and made sure we were job-ready."
While it was no easy feat for Gaitan and there were times he said he felt like giving up, he finally graduated with an associate degree in Wind Energy Technology in Spring 2018, and he already has a stable career.
He works as a traveling wind technician with BHI Energy and is currently stationed at the Los Vientos wind farm in Rio Grande City.
"I have had the opportunity to see places I never thought I would, but I'm fortunate to be back home," said Gaitan. "Everything leading up to this has been quite a journey, but it was worth it."
Gaitan said he can now fulfill the promise he made at a young age to take care of his mom, and he hopes everything he has done has left a positive impact on his siblings, and anyone else who may be in his situation.
"I can only go up from here, and I plan to learn as much as possible so that I can begin to advance in my career," he said. "And I hope that my story not only inspires my family, but also others who may think education is impossible. Because I'm here to say that if I can do it, so can you."
For more information on Wind Energy Technology, visit https://tstc.edu/programs/WindEnergyTechnology.