(HARLINGEN, Texas) – A two-car accident, flashing emergency lights, first responders and patients with simulated traumatic injuries set the scene earlier this week at Texas State Technical College during the first mock disaster drill hosted by the Emergency Medical Services (EMS) program on campus.
"This drill served as a training for our students and to have them put their skills and knowledge into practice during a mass casualty incident while working with other first responders at the scene," said TSTC EMS instructor Adriana Contreras.
Participants who brought the mock disaster drill to life included TSTC emergency medical technician (EMT) and paramedic students, TSTC nursing students, TSTC campus police, the Harlingen Fire Department, the Weslaco Fire Department, South Texas Emergency Care, and AirLife.
"You can never fully prepare for an emergency," said Contreras. "But drills like this give our students a real-world experience so they are better prepared to enter the field."
This is the first drill of this magnitude for the EMS program since transitioning from continuing education to a certificate and associate degree program within TSTC.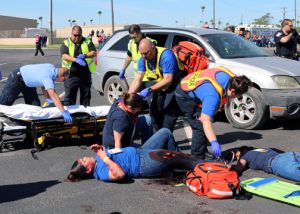 A similar mock disaster drill is hosted every semester by the EMS program at TSTC in Abilene, and Contreras said they played a huge role in this event's organization.
"The instructors and students in Abilene really guided us and helped us put this together," said Contreras. "This is something we expect to host every semester for our students. The more practice in patient care they get, the better prepared they will be for a real emergency."
To raise awareness about distracted driving, the mock drill included a car full of distracted students "crashing" head-on into another vehicle, also causing mock injuries to area pedestrians.
TSTC nursing students acted as injured patients made up to resemble an actual mass casualty scene. Mock head, brain, face, neck and spinal injuries were a few of the "traumas" treated by TSTC EMS students and first responders on scene.
TSTC EMS student Jasper Salazar said the program and this drill have expanded his grasp of the medical field and patient care.
"This is my first rodeo," he said. "I've worked in the medical field in acupuncture and other oriental medicines, but never in this capacity. This training is a good thing. It's a great learning experience for all of us."
He said he is grateful to TSTC for giving the students this type of opportunity because it raises awareness of the do's and don'ts at an emergency scene.
"Our job as EMTs is to save lives and make our cities safer," said Salazar. "And this prepares us while teaching us how to interact and communicate with other first responders and nurses at the hospital. In the real world, we all have to work together, and this is great practice."
Contreras said drills like this expose students not only to scenarios and injuries they might face in the field, but also to the emotional aspects they might encounter from patients and other first responders.
"Emotions can run high at scenes like the one we set up," said Contreras. "Our EMTs and paramedics need to know how to handle that as well. Sometimes we're there to hold a hand and provide a feeling of safety; other times we need to save a life. And it's important that, no matter what, we can build a trust with our patients."
TSTC Police Chief Eduardo Patino said it is crucial to build relationships with other first responders, and drills like this allow the building of a cohesive team.
"Together, we are being proactive and preparing for emergencies before they occur," said Patino. "And by building a strong working relationship with other emergency responders, we are able to respond and handle any incident accordingly."
Contreras said she is thankful to all of the emergency responders who participated and to the students who helped make the mock disaster drill a success.
"There is a huge demand for highly skilled EMTs and paramedics throughout our region and statewide," she said. "And we are working to ensure that our students possess the skills they need to be marketable in the field, to get hired and start working to save lives."
She said she expects to hold mock disaster drills often to ensure that everyone is ready for any emergency that may come their way.
TSTC's EMT and paramedic programs are currently accepting applications for Summer and Fall 2019, respectively. Information sessions are held every Tuesday.
For more information on TSTC's Emergency Medical Services program, visit tstc.edu or call 956-364-4741.