(HARLINGEN, Texas) – From ambulances and sirens to a classroom setting, Crystal Espinoza is Texas State Technical College's newest Emergency Medical Services instructor.
Completing her sixth week on campus, the 32-year-old said this is a dream come true.
"Since stepping foot into my paramedic class, I knew I wanted to teach," said the McAllen native. "Watching the way my instructors worked and how they helped us understand even the hardest of concepts was my inspiration."
Espinoza earned an Emergency Medical Technology Associate of Applied Science degree from a McAllen college and has worked in the field for six years.
Before arriving at TSTC, she worked as an emergency medical technician with Hidalgo County EMS in Edinburg for three years, then as a paramedic with Med-Care EMS in McAllen.
She said many have asked her what motivated her to enter such a demanding health care field, and her answer is simple: compassion.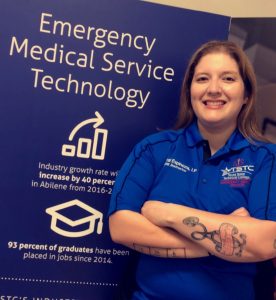 "I was in a major car accident several years back, and it was one of my scariest moments," she said. "I was panicking, and the paramedic that took care of me was so calm and collected. He was patient, understanding and calmed me down. From then on I knew I wanted to be someone's calm in their storm."
Espinoza calls her accident a blessing in disguise because before that day she had no clear path in life, and it gave her purpose.
"At the end of the day, this career is about helping people. And for me, that's rewarding," said Espinoza.
Now, at TSTC, her opportunity to help others continues.
Espinoza said her goal is to incorporate everything she has learned and her experiences from the field into the classroom.
"I have been lucky to have worked with some of the most seasoned paramedics in the field," she said. "These are the ones that have taught me a lot of what I know. And now I'm excited to pass that knowledge along to my students."
She said her goal is to produce skilled students who are ready to hit the ground running when they enter the field.
"Our goal is to get them trained, certified and employed with compassion and passion for this line of work," said Espinoza. "Not just anyone can do it. It takes a special person. On top of that, it takes a lifelong learner because every day is a new day of learning."
The fact that there is always something new to learn and always room for improvement keeps Espinoza moving forward.
"I have found my dream job, but I'm not stopping here," she said. "There's room for growth and opportunity of advancement here at TSTC."
Students who enroll in TSTC's EMS program can earn either an associate degree or a certificate as an emergency medical services paramedic or a certificate as an advanced emergency medical technician, with the skills needed to treat and assess patients at the scene and en route to a hospital.
Information sessions are hosted every Tuesday at 2 p.m. for those interested in the program.
The deadline to register for fall 2019 is August 23. The first day of classes is August 26.
To attend a session or for more information, call 956-364-4741 or visit tstc.edu.