(HARLINGEN, Texas) – As a first-generation college student, Marisol Arias is proving to herself and others that she can break barriers for herself and her family.
The Brownsville native is an Architectural Design and Engineering Graphics Technology student at Texas State Technical College, where she is expected to graduate in Spring 2020 with an associate degree.
"I can't believe it's almost time," said the 19-year-old. "It's exciting. I can't wait to discover all of the opportunities out there."
In fact, opportunity has already come knocking.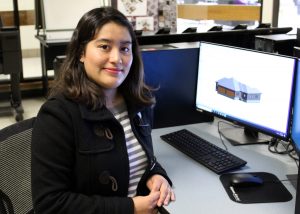 Arias is working in her degree field at Home and Commercial Designs in Brownsville, where she was hired after completing a one-year internship.
"This has been a huge opportunity for me to practice my skills and apply what I am learning in the classroom to the real world," she said. "To be getting this type of experience before graduating is surreal and a dream come true."
Arias said her love for art and drawing led her to architecture and design in high school, and when she had the opportunity to take an Architectural Design and Engineering Graphics class at TSTC as a high school student, she knew this was her program of choice.
But being the first in her family to attend college, she had a few hurdles to jump.
"I navigated a lot of the high-school-to-college transition on my own," she said. "The process was foreign to my family, but thankfully my high school counselors and the staff at TSTC helped me figure it all out."
By overcoming these obstacles, Arias said she had access to hands-on training that is preparing her for a successful career, instructors who have supported and encouraged her, and an internship that has allowed her to start her career before even graduating.
"I never imagined I would be where I am today," she said. "I have gained so much by attending TSTC, and it's only the beginning."
Arias boasts a perfect 4.0 grade-point average and said her goal is to maintain it so she can graduate as a TSTC Board of Regents honors graduate and make her family proud.
"Everything I am doing is to give my family a better future," she said. "I want to help my parents with financial stability and be able to support my brother's educational journey. I hope I can make them proud."
Arias' parents always emphasized the importance of an education and college.
"In our home, education has always been a priority," said Arias. "And I want to set that example for my brother and pave the way for him. He has already said he's coming to TSTC."
With hopes of growing within the industry, Arias also dreams of owning an architectural design firm someday.
"I have my entire future ahead of me. Only time will tell where I end up," she said. "But one thing for sure is that I am proud that I will be able to call myself a college graduate."
Architectural Design and Engineering Graphics is also offered online, and beginning in Spring 2020 it will offer evening classes.
For more information, visit https://tstc.edu/programs/DraftingDesign.