(HARLINGEN, Texas) – Attending the biannual Industry Job Fair at Texas State Technical College has become a tradition for directors and managers from Laughlin Air Force Base's Civil Service Maintenance Directorate.
Joseph Cortinas, Laughlin's aircraft maintenance project manager, joined more than 60 other industry partners on Thursday during the college's Industry Job Fair.
"This fair is a great recruitment pipeline for us," said Cortinas. "We admire TSTC's aviation programs for their structured training. TSTC is always a good experience for us."
Cortinas said they have hired TSTC aviation graduates from the college's Harlingen, Waco and West Texas campuses.
"TSTC graduates are well trained and ready to work," he said. "And this is why we keep coming back."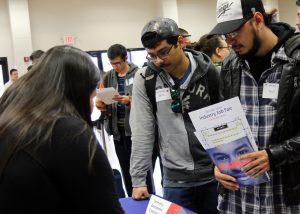 Cortinas and his colleagues conducted more than 10 interviews with TSTC students, all of whom they considered excellent job candidates.
TSTC Aircraft Airframe Technology and Aircraft Powerplant Technology instructor Leo Guajardo said he is excited when his students are presented with opportunities like the job fair, which introduces them to recruiters like Cortinas.
"Some of my students have already been given preliminary job offers," he said. "This job fair allows them to see and speak one-on-one with recruiters, and I'm excited to see them excel."
But with more than 600 TSTC students and alumni in attendance, others also had a successful day.
Raul Ledezma, an alumnus of TSTC's Commercial Driver's License (CDL) program, was interviewed on-site and given a job offer by Hellas Construction.
"Hellas was the first table I stopped at," said the 46-year-old. "I never expected to be invited for an interview. I haven't even made my way around the fair. I'm extremely excited and happy right now."
Ledezma graduated earlier this month from the CDL program after being laid off from his job in the oil field.
"I only learned about the CDL program when I went to the workforce office after my layoff," he said. "They even helped me pay for the class. It's all happened so quickly, but it has definitely paid off."
TSTC Director of Career Services Viviana Espinosa said that every year the job fair, which is held in fall and spring semesters, grows exponentially, and an increasing number of students and alumni receive job offers on-site.
"This is our largest fall Industry Job Fair to date," said Espinosa. "And it's because of our industry partners and our students. They make this event a success."
Espinosa added that she receives positive feedback from industry representatives after every fair.
"I'm always told that the fair exceeds expectations," she said. "And knowing about today's hires, it's evident that our students make a great impression."
TSTC's Industry Job Fair is in line with TSTC's mission of placing more Texans in great-paying jobs.
"This provides the opportunity to show our students how their skills are in demand," said Espinosa. "And it gives them a chance to network, showcase their skills and take the step toward a successful career."
For more information on the services offered by TSTC Career Services, visit https://www.tstc.edu/career-services/.