(HARLINGEN, Texas) – With commencement only a few months away, Texas State Technical College student Gabriel Flores still can't believe that he'll become a college graduate at only 19-years-old.
The Precision Machining Technology student said college was always the only option in his home, but when got to his senior year in high school panic set in because he had no idea what he wanted to be when he grew up.
"I knew I had to go to college, there was no other choice. That rule came straight from my mom," said the 19-year-old. "Only problem was I didn't know what I wanted to do or study, but one high school teacher changed that for me."
That high school teacher was Javier Martinez from Los Fresnos High School who taught Flores about machining, drafting and robotics.
It was also Martinez who recommended TSTC's Precision Machining Technology program to Flores.
"His class, his way of teaching is what sparked my interest in machining," said Flores. "I was lost and Mr. Martinez helped me find my path."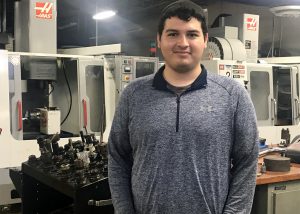 Currently, Flores is pursuing an associate degree in Precision Machining Technology and has found success at TSTC, boasting an almost perfect 3.8 grade-point average and a state SkillsUSA gold medal in Computer Numerical Control (CNC) milling, which also earned him a spot at the SkillsUSA national conference in Kentucky last year.
SkillsUSA is a career and technical student organization serving nearly 400,000 middle school, high school and college students and industry professionals enrolled in training programs that include trade, technical, skilled service and health occupations.
"Never would I have imagined having opportunities like the ones I have found at TSTC," said Flores. "I'm so grateful that my high school teacher led me in this direction because what I have been able to do is leading me to job readiness."
From the program's instructors to the hands-on training, Flores said his skills have improved ten-fold and he is confident with the knowledge under his belt.
"I don't only recommend my program to others, but TSTC in general," he said. "I feel like I grow every day because of the college's caring instructors and the focus on real-world training. I've gained experience and have had access to opportunities, like SkillsUSA, where I get to showcase my skills. And this is the type of education that every student at TSTC has access to if they are open to it."
Flores said he hopes his experiences reflects positively on his two younger brothers because as the oldest, and the first to graduate college, he wants them to see that a college education and degree are possible.
"A college education is important for broadening horizons and living a better life," he said. "And I want my brothers to continue down this same path so that they too can have successful lives. Education is the key."
Upon graduating in December, Flores plans to continue his education as an Architectural Design and Engineering Graphics student to improve his drafting skills that go hand-in-hand with his machining skills.
"I never expected to be graduating from college at only 19," said Flores. "I'm ahead of many of my friends who still need a couple of years to earn their degree, and it was all possible because of TSTC. I look forward to continuing my education as part of the TSTC community."
Precision Machining Technology offers a Certificate 1 and Associate Degree of Applied Science. Graduates from the program can expect to work as CNC tool programmers and metal and plastic machinists and can find jobs in commercial and military aircraft, medical and telecommunications equipment, automotive tool and oil tool manufacturing.
The program is also offered at TSTC's Fort Bend County, Marshall, North Texas, Waco and East Williamson County campuses.
For more information, visit https://tstc.edu/programs/PrecisionMachiningTechnology.