(HARLINGEN, Texas) – Eleazar Lumbrera started his journey at Texas State Technical College when he was in high school, but with doubts about his future, he decided not to attend college.
But now he's back as a Heating, Ventilation and Air Conditioning (HVAC) student and is expecting to earn his associate degree in Spring 2020.
"My mom has always pushed me to return to college, but I was stubborn," said the Santa Rosa native. "I wanted to work and make money, but it was time to come back to school. I had put it off long enough."
So with his family's support, especially from his mother Martha Lumbrera, who works as a custodian at the college, the 24-year-old enrolled at TSTC.
Lumbrera said he has always had an interest in HVAC systems and processes and with a passion for working with his hands, he felt this was the perfect fit.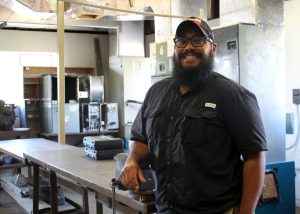 Prior to TSTC, Lumbrera worked part-time with Walmart and at Discount Tire as an assistant manager.
It was during this time that he said he grew as a person and as a leader.
"I was not the studious type. And after my first unsuccessful go around at TSTC I was nervous to return, but things had changed: I had grown up quite a bit," said Lumbrera.
The HVAC student who now boasts a 3.1 grade-point average, said taking time to grow and realize his potential was the right choice for him because now he's ready to study, focus on his classes and think about his future career.
In fact, his prior managerial experience has come in handy in the classroom as the program's and campus' Quality Enhancement Plan (QEP) student ambassador, representing the student body in a plan that is set to get all of its students job-ready.
"My classroom and hands-on training at TSTC has been great, but what I do outside of the classroom is what has made my experience remarkable," he said. "I never imagined that I would be considered a student leader or trusted with these types of responsibilities."
Lumbrera also competed last year in SkillsUSA, in the HVAC category and placed second statewide and was awarded a silver medal.
SkillsUSA serves nearly 400,000 middle and high school and college students and is a partnership of teachers, college instructors and industry working together to ensure America has a skilled workforce by giving students the opportunity to practice and improve on their skills through conferences and technical competitions.
"Because of what I am learning and doing at TSTC I feel confident in my skills," said Lumbrera. "I feel like I'm accomplishing things in life and I'm more than prepared to enter the workforce."
Before the end of the year, Lumbrera said he will begin his internship search for next semester so that he can continue to practice his skills before graduating.
And although the future is still unfolding, he said he has an open mind and feels grateful that he now has a path to follow.
According to the U.S. Bureau of Labor Statistics, the employment of HVAC technicians is expected to grow 13% by 2028 and with commercial and residential building construction expected to increase and drive employment growth, job opportunities for students like Lumbrera are expected to be good.
HVAC Technology is also offered at TSTC's Fort Bend County, North Texas, Waco and East Williamson County campuses.
For more information on HVAC Technology, visit https://tstc.edu/programs/HVACTechnology.