(HARLINGEN, Texas) – By the time they are 63 years old, most people are thinking about retirement. But not Adan Chavez. He is just getting started on what he calls his second chance at life.
The Pharr native graduated from Texas State Technical College in 2018 with certificates in Aircraft Airframe Technology and Aircraft Powerplant Technology.
But years earlier — long before the internet and cell phones were commonplace — Chavez had run afoul of the law and was incarcerated.
"It was a challenge coming back to school after being away for so long," he said. "The technology was a lot newer too. Everyone is now connected. It was an eye-opener."
Chavez feels blessed to have found TSTC.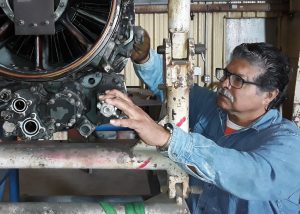 "Thanks be to God that I was given a second chance and that I made it through the (TSTC) program," he said. "It was actually a lot of fun being around young energy; it was contagious."
Chavez added that TSTC gave him an opportunity he may not have been given anywhere else.
"Mechanics has always been my thing, but airplanes have always fascinated me," he said. "So my daughter helped me find a program that combines both, and it was definitely time well spent."
While at TSTC, Chavez gained valuable, real-world experience on various types of aircraft that helped prepare him for the workforce.
"We got to practice what we learned in the classroom," he said. "So when I graduated, not only was I familiar with the terms and theory, but I was familiar with how to complete processes on actual aircraft."
Chavez credits the hands-on learning approach to his current success.
He is currently working as an airframe and powerplant mechanic at CV-580 in Brownsville.
"I'm so grateful to have been given the opportunity of starting a new career," said Chavez. "There have been so many people who have helped me get here. At TSTC there was always someone willing to help. This has set me up for a better future."
Chavez said his goals are to learn as much as possible, branch out within the field, and climb the ladder to leadership roles.
"I've been given a second chance in all aspects, and I'm proof that's it's never too late to get an education and start again," he said.
Aircraft Airframe Technology and Airframe Powerplant Technology are also available at TSTC's Abilene and Waco campuses.
Registration is underway for Spring 2020. For more information, visit https://tstc.edu/programs.