(HARLINGEN) – Texas has become one of the most important locations for the aviation and aerospace industry, and students from Texas State Technical College are getting in on the action as graduates from the college's Aircraft Airframe Technology and Aircraft Powerplant Technology programs.
TSTC is one of about a dozen colleges in Texas certified by the Federal Aviation Administration to train aviation maintenance technicians.
TSTC lead Aviation Maintenance instructor Tom Cross said he has seen extensive growth in the industry the last few years across the state, meaning that the opportunities for the program's graduates are increasing.
"There is a shortage of skilled aircraft mechanics," he said. "There are more mechanics retiring and leaving industry, than those entering. So right now is the time to enter this workforce. That's great news for our students."
According to a Texas Economic Development Corporation 2017 Texas aerospace, aviation and defense report, Texas ranks number one in the United States in air transportation employment, directly employing more than 135,000 workers.
Texas is home to the headquarters of two international airlines: American Airlines and Southwest Airlines, and two of the world's busiest airports George Bush Intercontinental Airport in Houston and Dallas Fort Worth International Airport.
The Rio Grande Valley, however, has not been left out and is seeing growth in the aviation industry with the introduction and return of new and existing airlines such as Frontier and American Airlines, respectively.
Jose Mulet, the director of Air Service and Business Development at Valley International Airport in Harlingen, said that with the expansion of airlines in our region there is the possibility that there will also be a growth in fixed-based operators in the area.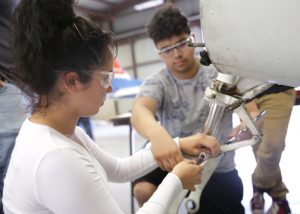 "There will always be a need for aircraft airframe and powerplant mechanics," said Mulet. "When we see a growth in airlines and airplanes, we'll also see a growth in contracts for repair and maintenance."
Mulet also added that larger cities like San Antonio, Houston and Dallas-Fort Worth are major hubs for fixed-based operators (FBO), organizations that provide aeronautical services such as maintenance and fueling; and aviation maintenance, repair and overhaul (MRO) operations, an essential requirement to ensure that aircraft are maintained in conditions of air-worthiness for the safety of passengers.
The Rio Grande Valley has a total of five FBOs: Sun Valley Aviation and Gulf Aviation in Harlingen, Hunt Pan Am Aviation and Southmost Aviation in Brownsville, McCreery Aviation in McAllen, which have in the past or recently hired TSTC's Aircraft Airframe and Aircraft Powerplant graduates.
One of TSTC's most recent Aircraft Airframe and Aircraft Powerplant graduates Saul Pena, who is now an airframe and powerplant mechanic at Hunt Pan Am Aviation, said in a recent interview that he is happy to have received this opportunity while staying close to home.
"I received this job offer a little after I graduated and it was a relief knowing I was beginning my career," said Pena. "TSTC treated me really well and I received an in-depth look into the field and hands-on training that helped lay my foundation to hit the ground running when I entered the workforce."
Aircraft Airframe and Powerplant graduates, like Pena, receive training in airframe auxiliary and electrical systems; landing gear systems; hydraulic, pneumatic and fuel systems; aircraft engines; propellers and turbine engine overhauls.
Both programs also prepare students to pass their Federal Aviation Administration exam to obtain airframe and powerplant licenses needed to work in the industry.
Cross said that in addition to getting careers in the aviation industry, a number of students go on to obtain successful careers in aerospace.
According to the same Texas Economic Development Corporation report, the state is also seeing significant growth in the aerospace industry with 17 of the 20 largest aerospace manufacturers in the world with operations in Texas.
In fact, Harlingen and McAllen, according to the Texas Economic Development Corporation, support manufacturing facilities for various Fortune 500 aerospace companies such as United Launch Alliance and GE Aviation, and most recently SpaceX in Brownsville.
"We've been in contact with SpaceX representatives who are interested in hiring our students," said Cross. "While many have already started careers in aerospace locally and statewide. The number of opportunities available to our grads is limitless and our job is to ensure they are job-ready."
The U.S. Bureau of Labor Statistics projects a five percent employment growth and job opportunities are expected to be good because workers retiring from the occupation will need to be replaced.
They also project, on average, an aircraft mechanic and technician will make between $20-30 an hour, or more than $50,000 a year.
For more information on TSTC's Aircraft Airframe Technology or on TSTC's Aircraft Powerplant Technology, both also offered at TSTC's Abilene and Waco campuses, visit tstc.edu.
Registration for Fall 2019 is underway. The last day to register is August 23.