(HARLINGEN, Texas) – The construction industry is booming and continuing to add jobs, but with growth comes the need for a skilled workforce. And Texas State Technical College's Building Construction Technology is diligently working to fill the skills gap.
TSTC Building Construction Technology lead instructor Rick Vargas said the industry demand is so high that program faculty regularly receive phone calls from industry partners looking to recruit students and alumni.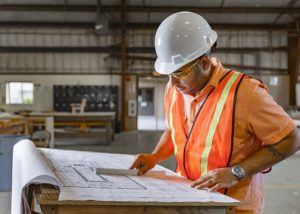 "This field is expanding regionally, statewide and beyond," said Vargas. "As this continues, opportunities for our students and graduates will only increase. They're already in demand."
He added that with the set of skills students learn in the program, they are able to work in any area of the field, from laborer and worker to inspector and manager, with an expected salary range of $40,000 to $90,000 a year, according to https://www.onetonline.org.
What is the length of the program?
Building Construction Technology offers two pathways: Certificate 1, which is three semesters, and an Associate of Applied Science degree, which is five semesters.
What can students expect when they graduate?
They can expect to be well-rounded in all aspects of construction — residential and commercial — and be job-ready. Graduates from the program also have the opportunity of obtaining entry-level to managerial positions.
And an advantage for TSTC's Building Construction Technology graduates is that the program is the only one in the Rio Grande Valley to offer additional certifications in building codes, forklift, and Occupational Safety and Health Administration 30-Hour Construction Training.
What skills do students learn in Building Construction Technology?
Students in the program learn skills and become familiar with the areas of construction that include floor, wall and roof framing; exterior and interior finishes; insulation installation; carpentry, concrete mixing and pouring; and painting.
They are able to practice these skills by working on real-world projects that are sold to the community. In the past they have worked on gazebos, sheds, deer blinds, doghouses and wooden ice chests.
What types of technologies are used to learn these skills?
A student in the program has access to a workshop that is stocked with industry-standard power tools and equipment, both mobile and stationary. They also have the opportunity to work on construction management software, thermal cameras, and a drone for ground mapping.
How do these skills prepare a student for the workforce?
A graduate from Building Construction Technology is ready to hit the ground running when they enter the workforce. They are knowledgeable in the many aspects of construction and can work as construction managers, first-line supervisors of construction trades and extraction, construction laborers, and construction and building inspectors.
What types of positions can a graduate from this program obtain?
Graduates from this program have gone on to build careers with local and statewide companies such as Noble Texas Builders, SpawGlass, Couric Enterprises, Origo Works, and Morton Buildings.