(HARLINGEN, Texas) – For the first time, Architectural Design and Engineering Graphics Technology will expand its offerings with evening classes beginning Spring 2020.
TSTC Architectural Design and Engineering Graphics statewide department chair Samuel Pizano said the change comes at a time when students are seeking flexibility, and evening and online courses are growing in popularity.
In fact, the program has already seen its first registrants for evening classes.
"We've recently seen a lot more interest in our program from students who are unable to attend classes during the day because of other obligations," said Pizano. "So this program expansion has been in the works for nearly a year, allowing us to cater even more to nontraditional students."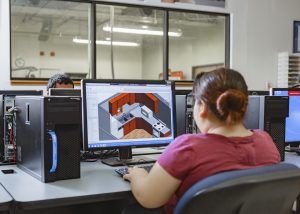 The program's associate degree plan can be completed 100% in the evening, with classrooms and labs open from 8 a.m. to 9 p.m. Monday through Thursday and 8 a.m. to 5 p.m. on Friday.
"Our goal is to help students create degree plans that fit their lives so that they can become college graduates and start their careers," said Pizano. "And this is the first step toward that."
Architectural Design and Engineering Graphics also offers the program fully online, and Pizano said evening courses will also benefit those students.
"Having our labs opened later will also allow online students to stop by and practice their skills in the lab, ask questions or have a one-on-one with an instructor," said Pizano. "Overall, we're giving our students options they want."
Pizano added that offering evening and online courses is also a stepping stone toward the program's performance-based education model that will begin Fall 2021.
Performance-based education will allow students not only to have flexibility with their schedules, but also set themselves up to graduates quicker.
Under performance-based education, the program will offer a new block of courses every midterm for those who accelerate their studies.
"Essentially we are giving students control of their schedules and timeline," said Pizano. "And no matter which path they choose, they will learn from industry-trained instructors and gain the skills they need and can implement in the real world."
Pizano said with the regional and statewide job market growing exponentially, the program's graduates are in high demand by employers.
"Our No. 1 goal is to produce highly trained students who can transfer the skills they've learned to industry to have a successful career," he said. "We are producing graduates that industry wants to hire, while giving students the education they deserve and desire."
Architectural Design and Engineering Graphics is also offered as an online class at TSTC's West Texas locations and, beginning Fall 2020, will be onsite at TSTC's Red Oak and Marshall campuses.
For more information on Architectural Design and Engineering Graphics Technology and the pathways available, call 956-364-4973 or visit https://tstc.edu/programs/DraftingDesign.