(HARLINGEN, Texas) – Ruben Ramirez was only 17-years-old when he began his career in Emergency Medical Services (EMS), and since then his passion for the field and training newer generations of EMS technicians and paramedics has only grown, leading him to Texas State Technical College.
The Harlingen native is a coordinator and instructor for TSTC's EMS program, a program that has seen various transitions throughout the years, but remains steadfast at filling a local, statewide and national skills gap.
It was at TSTC where it all began for Ramirez. He earned his Emergency Medical Technician (EMT) certificate in 1997 and worked nearly 10 years with Valley Baptist Medical Center as an emergency room technician.
"It's great being back at the place that kick started my career," said the 41-year-old. "It was a perfect match because I get to do what I love, while sharing my experience and knowledge with others."
In 2004, Ramirez returned to TSTC and received his paramedic certificate and later in 2016, he earned an associate degree in EMS through TSTC's Abilene campus.
"TSTC has seen me through my career," he said. "The EMS program has always had a great reputation and I'm excited to be a part of that on the instructor side now."
Prior to TSTC, Ramirez worked more than a decade in the field with Willacy County EMS in his hometown of Raymondville and with South Texas Emergency Care (STEC) in Harlingen.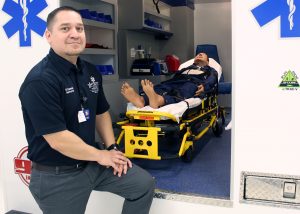 It was at STEC where Ramirez's career flourished. He began as a field medic, then was promoted to supervisor, before also receiving an additional certification as a fixed wing airplane and helicopter flight medic.
"This career is a life-changer," he said. "I first got into this profession as a teen because I thought lights and sirens were cool, but it's so much more than that. It's about saving lives and being someone's support while they experience one of the most difficult times in their lives."
While serving with STEC, Ramirez decided to return to TSTC in 2010 as a part-time fire academy and EMS instructor; and only recently decided it was time to trade an ambulance for a classroom.
It was the program's most recent transition from a continuing education course to a program that now offers certificates and associate degrees that encouraged Ramirez to s
tay at the college.
"I'm excited to be part of a program that is moving forward," said Ramirez. "And the support our program has received from TSTC leadership and administration has allowed us to advance our technologies and produce highly-skilled and trained graduates."
Not only do EMS students have the opportunity to now get a certificate or associate degree, but they also get to train on industry-standard, state-of-the-art simulation equipment and tools such as a simulated ambulance, simulated vitals monitors and medications, and a mock emergency room.
"Things have changed since I was a student. I wish I had everything we offer now, back then," he said. "Students can now have access to and can become familiar with almost every basic piece of equipment before even touching it out in the field. That's a huge advantage to have as a student. Employers look for that kind of training."
Ramirez said as an instructor his goal is to not only continue growing the program, but also helping students grow into successful EMS professionals.
"We have a great team of experienced paramedics teaching students in this program," said Ramirez. "And I hope that our students take away from our experiences and knowledge that we share and apply them to their careers to provide empathetic, compassionate patient care."
As for Ramirez, he is a TSTC student again. When he is not teaching, he is working on completing prerequisite courses for his bachelor's degree in Emergency Health Sciences.
"TSTC has always been there for me and my family," he said. "It allowed me to enter into a successful career as an EMS technician, paramedic and now instructor. I hope that I can give back to this college as much as it has given to me."
Ramirez's wife, Yolanda Ramirez, is also a TSTC graduate and an instructor for the Surgical Technology program at TSTC. Which is why Ramirez calls the college "a family affair."
TSTC's EMT and paramedic programs are accepting applications for the Spring semester. Information sessions are held every Tuesday.
Emergency Medical Services is also offered at TSTC's Abilene and Brownwood campuses.
For more information, visit tstc.edu/programs/EmergencyMedicalServices.