By Amanda Sotelo
(HARLINGEN, Texas) – The demand for heating, ventilation and air conditioning (HVAC) technicians is high and continues to grow as the number of residential and commercial sites increases.
And Texas State Technical College is working diligently to meet industry demand and fill the jobs that are vacated as people retire.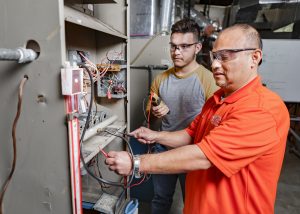 According to the U.S. Bureau of Labor Statistics, the job outlook for HVAC mechanics and installers is increasing by 13 percent, faster than average, and will have more than 46,000 jobs available nationwide by 2028.
"In the RGV alone, construction is booming. Imagine that tenfold across the state," said TSTC HVAC Technology instructor Jorge Cabrera. "This is leading to greater opportunities for our students, and we're training them right here at TSTC."
Cabrera went on to explain that HVAC systems are becoming more complex as technology advances, and TSTC is training its students to master those skills and more to give t
hem a leg up in the industry.
What is the length of the program?
The program offers two pathways: Certificate 1, which is three semesters, and an associate degree, which is five semesters.
What can a student expect when they graduate?
When a student graduates from the program with either a certificate or degree, they will also hold an EPA608 refrigerant certificate and an employment-ready certificate, which recognizes the mastery of industry-standard HVAC equipment and skills.
Both additional certifications can mean more job opportunities, promotions and a salary increase.
What skills do you learn in HVAC Technology?
In the program, students learn all of the fundamental basics of heating, air conditioning and refrigeration, such as basic electricity for HVAC; refrigeration principles; mechanical, plumbing and electrical systems in construction; air conditioning installation and troubleshooting; and residential air conditioning systems design.
As the program transitions to performance-based education in Fall 2020, students can expect to work toward mastering skills quicker to graduate sooner.
What types of technologies are used to learn these skills?
TSTC is constantly working with advisory boards, made of industry partners, to stay up to date on the latest technologies in the field. In HVAC Technology, students have access to industry-standard tools and equipment like Bluetooth gauges; phone and tables application downloads for reporting; air conditioning, refrigeration and heating units; and online video content and three-dimensional simulators.
How do these skills prepare a student for the workforce?
A company's goal is to hire an already technically trained and licensed graduate who will need little to no on-the-job training, so the skills students learn in this program through hands-on learning prepare them to enter the workforce ready as entry-level technicians. By the time they graduate, they are familiar with what's expected in industry, familiar with equipment and tools and how to troubleshoot, diagnose, repair and service all types of HVAC units. This makes them more marketable and leads them into successful careers.
What kinds of positions can a graduate from this program obtain?
Graduates from HVAC Technology can become heating, air conditioning and refrigeration technicians, mechanics and installers, and can work in schools, hospitals, and residential and commercial HVAC and refrigeration companies.
Companies that have hired TSTC HVAC Technology graduates range from Central Air and Heating, Coca-Cola, George Cunningham Air Conditioning and Heating, Southern Mechanical LLC, and Trane Heating and Cooling.