(HARLINGEN, Texas) – With the aging of baby boomers and with a population with an overall longer life span, the need for health care services is growing, increasing the demand for vocational nurses.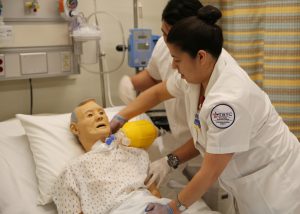 According to the U.S. Bureau Labor Statistics, vocational nursing is projected to grow faster than any other occupation by 2026.
Texas State Technical College Vocational Nursing Director Heather Sauceda said TSTC recognizes that demand, especially with the current shortage in the Rio Grande Valley and across Texas, and is working to fill that skills gap.
And with a job placement rate of 100 percent and a National Council Licensure Examination (NCLEX) pass rate of 96 percent, TSTC students are well-prepared vocational nurses who are well-rounded, hold patient care as a priority and practice compassionate nursing.
Sauceda explains the skills and technology behind training for the future of vocational nursing.
What is the length of the program?
After the completion of the four required prerequisite courses: Anatomy and Physiology I & II, Nutrition and Medical Terminology, the program is one full year.
What certificates and/or associate degrees are offered?
When students complete the vocational nursing program, they receive a certificate of completion. At this time they will be eligible to sit for the NCLEX (national testing) and upon passing will receive their vocational nursing license for the state of Texas.
What skills do you learn in the vocational nursing program?
The training for vocational nursing students starts the first semester while students are still taking their pre-requisite courses. The knowledge gained is then translated and applied to nursing procedures, pharmacology and disease processes. They also learn soft skills such as communication, time management and organization. Students' scope of practice skills training will range from basic patient bed making and patient transfers to blood draws, IVs and wound care.
What types of technology are used to learn these skills?
A collection of computer technology software is used to give students online resources for testing, tutorials, case studies, training modules and clinical simulations. The program also has skills labs that include basic mannequins for first-level students to begin implementing their physical assessments and soft skills and then advance to state-of-the-art simulation labs that have high-fidelity mannequins to simulate a real clinical area.
How does learning these skills help prepare the student for the workforce?
As stated by the Texas Board of Nursing, the duty of a licensed vocational nurse is to always provide safe, compassionate and focused nursing care to patients. And, TSTC ensures that students are providing just that by setting expectations high and implementing theory into clinical hands-on training so that upon completion graduates are prepared to enter the workforce and secure employment.
Who is hiring graduates from this program?
Local hospitals such as Valley Baptist Medical Center in Harlingen, Harlingen Medical Center and Doctors Hospital at Renaissance in Edinburg hire a number of TSTC's Vocational Nursing graduates. Nursing homes, home health care centers, schools and medical offices also hire program graduates.