(HARLINGEN, Texas) – Saul Pena, 24, is a Texas State Technical College graduate of Aircraft Airframe Technology and Aircraft Powerplant Technology. He earned his associate degree in 2018.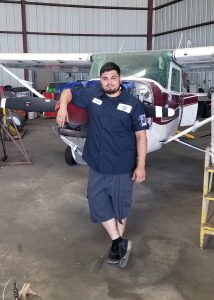 The Roma native has worked with Hunt Pan Am Aviation in Brownsville as an airframe and powerplant mechanic for one year.
He said mechanics has always been a part of his life. He grew up helping his father with motorcycle mechanics. After meeting a family friend who is a pilot, airplanes intrigued him, and his career choice became clear.
When did you first learn about your job offer?
My aviation maintenance instructor, Leo Guajardo, first told me about the opportunity available at Hunt Pan Am Aviation, so I went for it. I learned I had received the job offer a little after graduating, and it brought me relief knowing that I was beginning my career, no time wasted, and gave me such a huge sense of accomplishment.
How did TSTC prepare you for your career?
TSTC treated me really well. The instructors were experienced in the industry, which gave us an in-depth look into the field and what to expect when we graduated. The hands-on training we received also helped lay the foundation that prepared us to hit the ground running when we entered the workforce.
Who has had the greatest influence on your success?
My parents mostly have influenced my success. They are my biggest supporters through this journey. Then there's my instructor, Guajardo. He really helped motivate all of his students when times got tough, and he constantly shared job opportunities with us because he genuinely wanted to see us succeed.
What are your future goals?
My goal is to successfully complete an inspection authorization course in the near future that will allow me to become a certified Federal Aviation Administration aircraft inspector.
What would you tell a student thinking of pursuing a two-year degree vs. a four-year degree?
First and foremost, a student needs to determine their strengths, weaknesses and interests to make an informed career choice. And if a two-year degree is the best choice for them, I encourage them to explore the option and discover TSTC. For me, TSTC has been a great place to learn and find a great-paying career.
What is your advice for future TSTC students?
Take one day at a time and never give up. Two years seems like a long time, but in reality time moves quick, and by the time you know it, you'll be working. Enjoy your TSTC experience.