(HARLINGEN) – Blueprint reading, coding and design is what Texas State Technical College students Eduardo Ortiz and Gabriel Flores have been focused on in preparation for the upcoming SkillsUSA National Leadership and Skills Conference.
SkillsUSA is a professional organization teaching technical, academic and employability skills that help high school and college students pursue successful careers. Members build these skills through student-led team meetings, contests, leadership conferences and other activities.
Both TSTC Precision Machining Technology students and SkillsUSA competitors will be traveling this weekend to Louisville, Kentucky after earning their spot at nationals with gold medals during the SkillsUSA state competition hosted earlier this year at TSTC's Waco campus.
"I'm going into this with a first place mindset," said Ortiz, who's competing in Automated Manufacturing Technology. "You're never fully ready, but we're confident we've prepared enough and we're ready to be challenged."
Ortiz is part of a three-person team and has been working with his peers Carlos Davila and Noah McCoy to prepare for this competition by studying past competition blueprints, recreating designs, reviewing numerical control programming codes and simulations.
It was only three years ago when Ortiz was in a head-on collision with a drunk driver who was driving on the wrong side of the road. He said he could have never imagined being able to take advantage of this kind of opportunity after two broken legs, fractures on his arm and ribs and partial paralysis.
Just like Ortiz pushed himself through recovery, he has pushed himself to succeed. His work has paid off. At state competition, Ortiz was also elected a SkillsUSA delegate representing Texas.
"I'm looking forward to everything this conference has to offer in addition to competing," he said. "I'm excited to network with industry professionals and learn from other students like myself. This is going to be a great experience and I hope to represent TSTC to the best of my ability."
And like with many competitors who have a competitive edge, gold is the goal.
For Architectural Design and Engineering Graphics student Jonathan Collins, he thrives in a competitive field and has been working with his advisor and instructor Mark Rosas non-stop since finding out he was traveling to Louisville.
He has been reviewing interior and exterior residential floor plans and all of the basics of architectural design and drafting to prepare
for his upcoming eight hour test at SkillsUSA.
"Sure, the unexpected in the competition can be nerve-wracking, but SkillsUSA has helped me grow as a drafter, exposed me to industry professionals and like-minded people," said Collins. "And I'm excited to see how I rank in a national setting."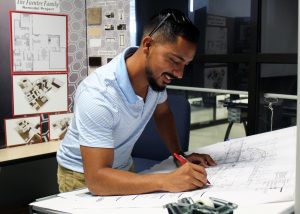 He added that win or lose, he feels he has gained a lot by participating in SkillsUSA and credits his experience and instructors for his success and recent job offer.
Collins has already accepted an offer and started as a drafter for an architectural and project management company in McAllen. He is expected to graduate from TSTC in August.
TSTC Precision Machining Technology instructor and SkillsUSA Campus Coordinator Isaac Gonzalez said that he hopes every TSTC student going to Kentucky shows their professionalism, represents TSTC and their instructors well and gives it their all.
"Everyone is competing for that top position, but it's no different than when a graduate is looking for a job," said Gonzalez. "So our students need to go out there with their heads held high and know that win or lose they've already proved to be the best in Texas."
Students in SkillsUSA participate in hands-on competitions in various fields such as science; technology; engineering; mathematics; building construction; and heating, ventilation and air conditioning.
TSTC is sending a total of 63 students, statewide, to the SkillsUSA National Leadership and Skills Conference.
For more information on the programs offered at TSTC, visit tstc.edu.
The deadline to register for Fall 2019 is August 23.