(HARLINGEN, Texas) – It was nearly a year in the making, but the Testing Center at Texas State Technical College has become the first in the Rio Grande Valley to earn national recognition by the National College Testing Association.
The certification cements the Testing Center's national status as a leader in excellent testing practices. It proves that the center is a secure testing environment with a trained testing staff, and it sets the bar high for other postsecondary testing centers.
"This is an exciting time for us," said TSTC Testing Center assistant director Llesmin Gonzalez. "This validates all of the hard work our team does. It shows that we're moving in the right direction."
TSTC's Testing Center is one among a growing number of centers in the United States and Canada to have completed the intensive certification process.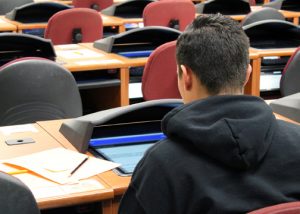 Everything from testing center blueprints and layouts to photos and scenario write-ups and solutions were submitted for consideration.
"It really was a team effort," said Gonzalez. "It was all hands on deck to make this happen for our center and our college."
The certification will be in place for the next five years and can be renewed by demonstrating continued compliance to national standards.
TSTC's Testing Center, which is also open to the public, offers numerous testing services. They include the Texas Success Initiative (TSI) assessment, College Level Examination Program (CLEP) testing, General Educational Development (GED) testing, the Computing Technology Industry Association (CompTIA) certification exam, and one of the newest: personal trainer certification.
"We already offer many services to our students and the community, but this national recognition will allow us to expand on what we offer and invite new testing vendors to offer their exams at our site," said Gonzalez.
She added that students and the community will benefit from this expansion because the center will offer in-demand testing while helping students and the community achieve their educational and workforce goals.
"We're ready to lead the way with this recognition here in the RGV and among our TSTC campuses," said Gonzalez.
The National College Testing Association is a nonprofit organization dedicated to the promotion of professionalism and high-quality service in the administration of testing programs. It offers certification to college and university testing centers that demonstrate exemplary practices.
For more information on the testing services offered by the TSTC Testing Center, visit https://www.tstc.edu/admissions/testing.