(HARLINGEN, Texas) – Eric Interiano graduated from high school in the top ten percent of his class, but with no college plans or career path to follow.
For the now 20-year-old, who recently earned his associate degree in Biomedical Equipment Technology, this was concerning on many levels.
As a top 10 percent, general academics dual-enrollment student at TSTC, many had high expectations for him. He could have received acceptance into any university, yet he said nothing was calling his name.
"I had standards to uphold. It was a lot of pressure," he said. "But I didn't know what I wanted to do. I couldn't find my passion. I started praying."
Growing up in a strong faith-based family, praying was a daily ritual. So he started praying for a sign. He said he needed God to guide him toward his purpose in life.
And a sign he received.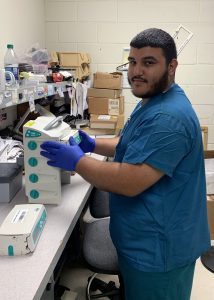 "I walked into a local gym and overheard a group of guys talking about biomedical class at TSTC," said the Harlingen native. "I was familiar with the college, but not the program. So I asked questions. And I knew immediately this was the answer to my prayers."
The next day, Interiano enrolled in TSTC's Biomedical Equipment Technology program, with only two weeks left before the first day of class.
In Biomedical Equipment Technology students learn how to calibrate, troubleshoot, test and repair medical equipment that is used to diagnose, prevent and treat illnesses and diseases, such as patient monitors or EKG machines. All of this equipment is used at healthcare facilities such as clinics, hospitals and long-term care centers.
"I went into the program with no knowledge of the industry," said Interiano. "But the training provided by the instructors in the program changed this quickly."
Interiano calls himself a hands-on learner. He said he learns best by doing; so the training he received on industry-standard equipment helped him understand concepts, processes and his responsibilities and duties as a biomedical equipment technician.
"The training I received was invaluable. It allowed me to better grasp and understand how things work in the field," he said. "I was able to learn quickly and apply it in my assignments, exams and internship.
Before graduating, Interiano was hired as an intern at Valley Baptist Medical Center in Harlingen, where he was hired as a full-time biomedical equipment technician immediately after graduating from TSTC's program.
"I thank God every day for the opportunities he allowed me to find at TSTC and I thank God for the instructors and people he placed in my path," said Interiano. "I was fully prepared and confident to hit the ground running when I got hired and that was because of the training and support I received at TSTC."
During the program, Interiano and his classmates received real-world experience by maintaining and repairing equipment for TSTC's Allied Health department, which he said better helped him sharpen his skills.
With a two-year degree, Interiano now receives a salary between $40,000 and $50,000 a year, and a full benefits package, and said he looks forward to growing and hopefully becoming a manager one day.
"I want to continue to learn as much as I can about my field. There's something new every day," he said. "And I hope to one day become a manager. I'm leaving it in God's hands and I will go wherever he leads me. But I do know for sure, I have found my passion and purpose in life at TSTC."
Biomedical Equipment Technology is also available at TSTC's Waco campus.
For more information on the program, visit tstc.edu/programs/BiomedicalEquipmetTechnology.
Registration for Fall 2019 is in progress. The last day to register is August 23.