TSTC Names Block Campus Director
May 21, 2018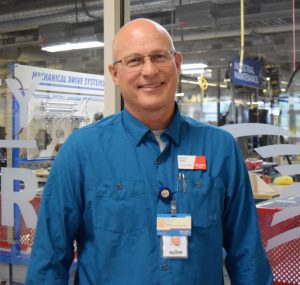 (HUTTO) – Texas State Technical College in Williamson County has named Darren Block as its new Campus Director and Campus Academic Manager.
Block retired from the Army in 2010 as a sergeant first class
"I was a motor sergeant or a maintenance supervisor," he said. "I was in charge of the motor pool. I was in charge of machine shops, maintenance shops, welding shops. I retired as an E-7 sergeant first class, but I was doing the job of an E-8 first sergeant. So, a lot of admin stuff, a lot of running a company-sized element in the army. That's what I did in the last 10 years."
After retiring, he attended TSTC in Waco and graduated from the college's Mechanical Engineering Technology (now Precision Machining Technology) program with a 4.0 GPA.
"I wanted to become an engineer, and that was the liaison in between the two," Block said.
After working in the field for a while, Block paid a visit to TSTC in Waco to update his machining software.
"Well, I went to Waco for software, and while I was there, Mr. Rodriguez (Jose Rodriguez, statewide division director of Production Manufacturing) asked me if I'd ever considered teaching," Block said. "I said I hadn't, and he asked, 'Would you? We'd really like to have you.' So I applied for it, and they hired me."
Block began teaching Precision Machining at TSTC in Williamson County in 2014 in the early stages of the program and grew to love the profession.
"I really love technical school," he said. "You can walk into any program here and ask the guys anything. They're the product-knowledge experts. So if I have a problem with HVAC, I go talk to those guys. They'll troubleshoot with me right here, right now. Or welding — I'm taking welding classes. You can learn anything you want to. That's the best part."
Though his new position focuses more on the management side of things, Block is glad to lend support to his colleagues.
"It's broader," he said. "I'm more involved in streamlining ways to teach or processes, like when we order tools or expendables, I'm making that process easier and more efficient. We're working on making syllabi easier for instructors so they don't have to spend time doing that when they could be spending time on teaching. I'm trying to do the background legwork for them."
TSTC Provost Edgar Padilla said Block is a great asset to the leadership team.
"We are pleased to have a proven leader at the helm of our student learning operations and proud that one of our own, a TSTC graduate, is leading our instructional team on campus," he said. "Darren has already proven that he has the subject-matter expertise to effectively manage our instructional programs, and as we grow, we will continue developing our leadership team internally."
Block said he is happy to be in a position where he can effect change.
"I'm glad that I am in a position where I can make a difference, a good one," he said. "That's the main reason I took this position."
TSTC prides itself on being "a great place to work" and is currently hiring for positions at its 10 campuses statewide. For information on open positions at TSTC, visit tstc.edu/about/employment.
New TSTC Building Predicted to Generate Industry Interest in Abilene
May 21, 2018
(ABILENE) – Texas State Technical College's expansion on Abilene's east side is expected to be a magnet for growth.
"I think anytime you have a new building, it is going to generate interest," said Rick Denbow, provost of TSTC in Abilene. "People start thinking about relocating or bringing in their company. If they see activity going on, they think this is the place to be."
Construction on the 56,000-square-foot Industrial Technology Center on Loop 322 next to Abilene Regional Airport began in June 2017 and is scheduled to be completed in time  for the first day of the fall semester on Monday, Aug. 27. The building is the first on what is planned to be a 51-acre campus.
The ITC will have new technical programs for Electrical Power and Controls, Industrial Maintenance and Welding. The Emergency Medical Services program will move to the new building from its current location on East Highway 80.
The new programs factor into Abilene's desire to build its workforce. Jobs in nursing, physical therapy, equipment service and maintenance, and computer numerically controlled (CNC) machining were some of the hardest to fill, according to a March 2016 economic development strategic plan created for the Development Corporation of Abilene.
Some of the general industries targeted for recruitment by the DCOA include advanced manufacturing, healthcare and food processing, according to the strategic plan.
"I think as we get that building built, it is going to help the economic development folks in Abilene recruit industry," Denbow said.
The Abilene Industrial Foundation is currently marketing a 35-acre, shovel-ready plot on Maple Street less than five minutes from the airport and TSTC's Industrial Technology Center. And, the foundation is developing the 21-acre Access Business Park at the intersection of Farm Road 18 and Texas Highway 36 near the airport.
Justin Jaworski, executive director of the Abilene Industrial Foundation, said TSTC is a fundamental piece of the city's economic development plan.
"The eventuality will be that TSTC provides a reliable and dynamic pipeline for a trained workforce that will be able to — on-demand — meet whatever needs are requested in Abilene," he said.
The campus is being included in the airport's revised master plan, which looks ahead up to 20 years.
"We are envisioning commercial development on that side of the airport," said Don Green, director of transportation services for the city of Abilene. "We were already working toward that before the TSTC project came about a little over a year and a half ago. This project fits in with it. We hope the campus will act as a bit of a catalyst for increasing activity over there and will help us in developing and marketing that area."
Imperial Construction Inc. of Weatherford is using local subcontractors where possible to construct the building, which has a structural steel frame, heavy-gauge framing, and metal siding and sheathing. The construction and design costs total $12 million, with an additional $3.4 million in equipment and furniture. The building was designed by Parkhill, Smith & Cooper, which has offices in Abilene and throughout Texas.
Future campus building construction will be subject to review by the Federal Aviation Administration to ensure that height does not interfere with protected airspace, said Green.
For more information on Texas State Technical College, go to tstc.edu.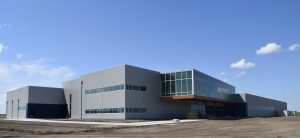 TSTC training to help fill nursing shortage
May 21, 2018
(HARLINGEN) – The Texas State Technical College nursing division in Harlingen is celebrating its second consecutive 100 percent national exam pass rate for its vocational nursing program, a mark of distinction for the department that is working to relieve a shortage of nurses in the Rio Grande Valley and across the state.
"We hold all of our students to a high standard," said Heather Sauceda, TSTC vocational nursing program director. "Here at TSTC we produce skilled, competent and compassionate nurses who we can trust in the field to fill the gap in patient care."
For a vocational nursing graduate to become licensed as an LVN, he or she must first pass the National Council Licensure Examination (NCLEX), which gives them the right to practice nursing in the state.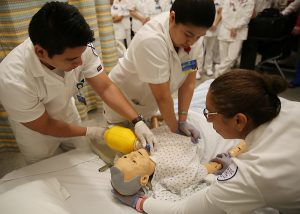 Last year, to give its vocational nursing graduates and current LVN licensees more opportunity and because nurses are in high demand, TSTC introduced an Associate of Applied Science licensed vocational nursing (LVN) to registered nursing (RN) transition degree.
According to the Texas Center for Nursing Workforce Studies of the Texas Department of State Health Services, Texas will see continued demand for registered nurses through 2030.
Additionally, Texas is the highest employer of licensed practical and licensed vocational nurses, according to the U.S. Department of Labor's Bureau of Labor Statistics.
Among the contributing factors to the rising need for nurses are an increase in demand for health care services, an aging population, an increase of chronic disease, new patient-centered medical homes and health centers, and nursing personnel who are nearing retirement.
Harlingen Medical Center Chief Nursing Officer Amy Flores oversees more than 200 nurses, with a large of number of them, she says, retiring within the next five to 10 years.
"The future is bright for nursing right now. We're going to be scrambling to find enough (nurses) soon," she said. "And it's important now, more than ever, that we have more colleges and qualified staff to train new nurses."
Jean Lashbrook, TSTC's statewide nursing division director, said that the approval in 2017 for a new registered nursing program at TSTC's Harlingen campus has allowed them to train more students pursuing the field.
"We started with a cohort of 30 students in Fall 2017, but after three years we plan on increasing the number of students accepted, along with increasing faculty," she said.
The first cohort will be graduating this summer.
Lashbrook also added that the registered nursing program at TSTC's Breckenridge and Sweetwater campuses in West Texas is increasing its number of students and graduates.
"In West Texas we're increasing our numbers by branching out in local communities for clinical experience for students, which gives our program more visibility in the surrounding area," said Lashbrook.
Vocational and registered nursing students at TSTC have the opportunity to learn and practice simulation exercises in state-of-the-art labs.
"The training we provide allows our students to practice real-world scenarios they will encounter," said Sauceda. "This helps reduce their anxiety, which in turn allows them to provide the best patient care possible."
Flores, who has worked with TSTC nursing students completing their clinical hours, has found their skills to be above average.
"They are professional, prepared for clinicals and have good instructors that monitor their progress," Flores said. "We have found in the past with other programs that students did not come with all the necessary skills and had to be followed closely," she said.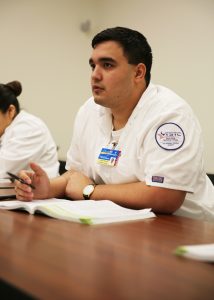 TSTC's objective and focus is to produce highly skilled nurses who are compassionate, committed to their career, can think critically, multitask and have good time management, which is the type of nurses that Harlingen Medical Center and many others across the state are looking for.
"Acuity (intensity of care required by a patient) in hospitals has been rising rapidly due to an average decline in length of stay because of new technology that allows rapid assessment, treatment and discharge," said Flores. "Hospitals are now also becoming large intensive care units, with cardiac monitoring, respiratory assistance and intense treatment, so skilled and specialized nurses are in great demand."
Hospitals across the Rio Grande Valley have licensed vocational nursing and registered nursing positions posted on their websites. Harlingen Medical Center and Valley Baptist Health System in Cameron County have nearly 80 available positions combined, while Doctors Hospital at Renaissance and South Texas Health System in Hidalgo County, combined, have more than 100.
"There is no lack of positions in our field," said Sauceda. "And our goal is not only to prepare our students for a career in nursing, but also to get them ready to take their education a step further."
Sauceda added that the TSTC nursing division team has also been visiting local high schools to plant the seeds of a career in healthcare early.
"These teens and young adults are the people who will be taking care of us all someday," she said. "It's our job to encourage them, and because of the demand, there will be many doors of opportunity open to help them climb the ladder."
TSTC's Breckenridge and Sweetwater campuses also offer a certificate in vocational nursing or an associate degree in nursing.
For more information on TSTC's nursing programs or about upcoming information sessions, call 956-364-4762.
Student Success Profile – Ruben Rodriguez
May 21, 2018
(HARLINGEN) –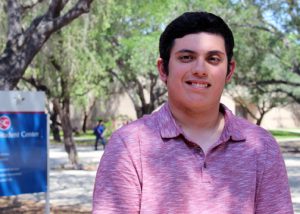 Ruben Rodriguez, a Harlingen native, is the newly elected Student Government Association treasurer at Texas State Technical College.
The 19-year-old is studying his academic core and expects to finish in Spring 2020. He is a recent graduate of the TSTC Student Leadership Academy, volunteers across the community and around campus, and is working toward growing the TSTC discount program, which provides TSTC students with discounts at local restaurants and shops.
What are your plans after graduation?
As soon as I complete my academic core at TSTC, I plan on transferring to the University of Texas Rio Grande Valley to pursue a bachelor's degree in criminal justice.
What's your dream job?
My dream job is to become a U.S. Border Patrol agent and when I retire become a state trooper.
What has been your greatest accomplishment while at TSTC?
My greatest accomplishment at TSTC so far has been becoming treasurer of the SGA. I was unsure about trying for the position, but with the great leadership from Student Life and my friends, I was encouraged to do it, and it has been the best experience.
What greatest lesson have you learned about yourself or life?
The greatest lesson I have learned is that anything worth having is not easy. It requires hard work, sacrifice, and trial and error, but in the end it's all worth it.
Who at TSTC has had the most influence on your success?
The people who have influenced my success the most are my supervisors: Executive Director of Student Life Adele Clinton, Student Life coordinators Belinda Palomino and Larissa Moreno, and my fellow SGA officers. They are my advisors, motivation and support and always help me push forward.
What is your advice for future TSTC students?
My advice for future TSTC students is to remember that college is what you make of it. It can be hard or easy, fun or boring, but when you make the best out of any situation, your experience is bound to be great. Work hard, reach for your goals and have fun.
TSTC Wind Energy Technology alumni give back to their community
May 21, 2018
(HARLINGEN) – Texas State Technical College Wind Energy Technology alumni Eric Ramirez and Rene Lopez normally spend their days working the wind turbines at Duke Energy in Lyford, but on Thursday they were found working the barbeque grills at the Harlingen Boys and Girls Club.
"I used to spend my summers playing video games and basketball at my hometown Boys and Girls Club in Raymondville," Ramirez reminisced. "It's a great place for the kids, and I feel it's my duty to give back to the place where I grew up."
Lopez added, "It feels great giving back to the community where I was raised. We're here to help in any way we can, big or small."
Both men and a team of their colleagues chopped brisket cooked by Harlingen firemen; packaged trimmings of onions, jalapenos and pickles; and put together plates with brisket, rice, beans and bread for the fundraiser, which was hosted by the United Way of Northern Cameron County. Proceeds benefited 14 nonprofit partnerships, including the local Boys and Girls Club.
"We are so excited to have them here and have Duke Energy as a United Way partner," said Jessica Belschner, United Way executive director. "They are doing a wonderful job."
Ramirez and Lopez graduated with certificates in Wind Energy Technology in 2012. Both wind energy technicians have worked with Duke for nearly four years.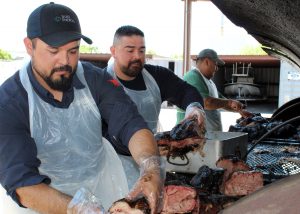 The men have had several opportunities to volunteer in the communities where they grew up since graduating from TSTC and joining the Duke Energy family.
"Without TSTC I wouldn't be where I am today," said Lopez, a Sebastian native. "Studying wind energy was never the plan, but I'm glad it worked out the way it did."
Lopez said that initially he was at TSTC only to finish his basics while he worked at a local roofing company, but when he was introduced to the wind energy program, he was compelled to enroll in it.
"TSTC gave me the opportunity to learn and try new things and to kick-start my career," said Lopez. "I haven't been without a good-paying job since then."
Lopez also holds a Federal Aviation Administration license to be a drone pilot for Duke Energy. He has already assisted in many projects, including hurricane relief efforts in Florida after Hurricane Irma.
As for Ramirez, TSTC's Wind Energy Technology was a career change and a second chance at a better life.
Ramirez said he worked for many years in trucking, and when he began to see wind farms pop up across the Valley, he knew that was where he was supposed to be.
Immediately after graduating, Ramirez worked for a year and a half with Mitsubishi Heavy Industries in Sarita before making the move to Duke Energy.
"TSTC was a great experience for me. It provided me with the foundation I needed to enter a field with many job and growth opportunities," said Ramirez. "It is definitely because of TSTC that I have been able to find great jobs."
Duke Energy Area Planner for Wind Operations Sotero Regalado is also a TSTC alumnus and is Ramirez and Lopez's supervisor.
Regalado, who earned his certificate in Wind Energy Technology in 2011, said Ramirez and Lopez are two of the best technicians he has in the field.
"Both men are top-notch. They instill safety in our overall culture at Duke and are great team players," said Regalado. "There is no doubt that the success they have found with us is because of the training they received at TSTC, (and) their hard work and motivation."
May is Duke Energy in Action Month for the company, but Regalado said he hopes to continue volunteer efforts throughout the year, especially after seeing how excited Ramirez, Lopez and their team were to help out, and he hopes that they can also mentor or assist other Wind Energy Technology students from TSTC.
For more information on Wind Energy Technology, visit tstc.edu.