TSTC auto collision program awarded laptops from I-CAR
November 19, 2018
(HARLINGEN) – Auto Collision and Management Technology at Texas State Technical College in Harlingen was recently award a Progressive Insurance laptop grant by the Inter-Industry Conference on Auto Collision Repair (I-CAR) Collision Repair Education Foundation during the 2018 SEMA Show in Las Vegas.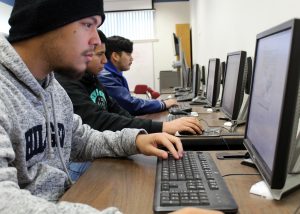 The SEMA Show is the premier automotive specialty products trade event in the world. It draws industry's brightest minds and hottest products to one location and provides educational seminars, product demonstrations, special events and networking opportunities.
With this grant, TSTC Auto Collision and Management Technology will receive 10 laptops by the end of the year to use for training purposes.
"Every student in our program will benefit from these laptops," said TSTC Auto Collision Technology lead instructor Jose Vasquez. "This is a huge upgrade and a big deal for our program. We are very grateful to have received this award."
Vasquez said this award is part of group effort within departments at TSTC.
"Everyone from administration, statewide leads to the marketing department helped make this award possible," said Vasquez. "And we are so thankful that everyone was able to do his/her part to help prove our need."
The laptops will be implemented for training in the program's Estimating/Shop Management course.
Vasquez said these laptops, which will be equipped with estimating and management programs used in industry, will allow his students to quickly research auto body parts and write up repair estimates for class assignments and live projects, where students research damage and parts and estimate repairs for vehicles brought in by folks from the surrounding communities.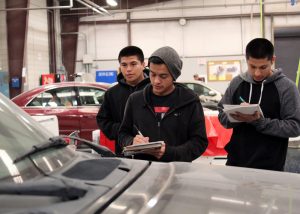 "Our priority is to prepare our students for the industry and these laptops will allow them to experience firsthand what they will see when they begin working. This is industry-recommended training," said Vasquez. "This will improve students' training and will make their research and estimates instant, instead of the manual way we're doing things now."
TSTC Auto Collision and Management Technology and I-CAR, a not-for-profit organization dedicated to providing the information, knowledge and skills required to perform complete, safe and quality repairs, have a long-running partnership.
I-CAR has provided students from TSTC's auto collision program with scholarships, tool grants, U.S. Armed Forces veteran grants and also grants for TSTC shop upgrades.
"We are honored to provide TSTC in Harlingen with the Progressive Laptop Grant and other assistance throughout the year. This is a well-deserved award," said Melissa Marscin, director of operations and administration for the Collision Repair Education Foundation. "TSTC's collision program has proven to be great and we know these laptops will help them become an even better program. We hope that this donation will help them improve their access to I-CAR training, estimating and vehicle service information."
Vasquez said he is thankful for everything I-CAR has done for the program and his students.
"Year in and year out, as a member of their foundation, I-CAR has helped us improve our training and kickstart careers," said Vasquez.
Auto Collision and Management Technology is offered at TSTC's Harlingen and Waco campuses and offers certificate and associate degree tracks.
For more information on TSTC Auto Collision Technology, visit tstc.edu.
Student Success Profile – George Ganze
November 19, 2018
(HARLINGEN) –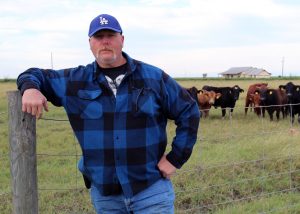 George Ganze is an Agricultural Technology student at Texas State Technical College. The 55- year-old expects to graduate with his associate degree Spring 2019.
The Rosebud, Texas native currently holds a perfect 4.0 grade-point average and volunteers with the TSTC Veteran Students Alliance Club.
Ganze served four years in the Marines and was deployed to serve in Desert Shield and Desert Storm and is also a retired San Diego County, California deputy sheriff.
What are your plans after graduation?
After I graduate I plan on returning to Waco, where I have some land, and start a farming/cattle business. This is a new career for me and it will supplement my retirement and carry me through the rest of my life.
What's your dream job?
My dream is to own a business. I was born and raised in Texas where farming and ranching is a big part of life and it's time to make something of the land that I own.
What has been your greatest accomplishment while at TSTC?
My greatest accomplishment while at TSTC is being placed on the Chancellor's Honor Roll and being recognized for maintaining high grades. The last time I was in a classroom was in 1981, so this is a huge accomplishment for me.
What greatest lesson have you learned about yourself or life?
At my age I've learned many lessons, but the ones that have stuck with me are: you never quit learning or experiencing new things, be sure to take life one day at a time, meet new people, always laugh and be happy.
Who at TSTC has had an influence on your success?
The person who has had the greatest influence on my success is my Agricultural Technology instructor Sammy Gavito. When I came down from Waco he was the first person I met here at TSTC. He's a great man and has been my guidance and support throughout the program.
What is your advice for future TSTC students?
My advice to future TSTC students is to take advantage of everything TSTC has to offer. This has been a great program and college for me and I highly recommend it.
TSTC Chemical Technology grad finds career at TSTC
November 19, 2018
(HARLINGEN) – On December 1, Texas State Technical College Chemical Technology alum and lab assistant Monique Jeudy will celebrate her anniversary with the college.
The 43-year-old graduated with an associate degree from TSTC in 2017.
"My senior year in high school, in 1993, an instructor from TSTC's Chemical Technology program came to talk to us and the career possibilities stayed in my mind," said Jeudy. "It was impressive."
For Jeudy, college did not happen immediately. She is the mother to three girls, and the oldest was born immediately after Jeudy graduated from high school.
"I had to grow up fast. I was a mom," she said. "I had a baby to support."
So Jeudy put college on hold and worked odd jobs – Taco Bell, Cinemark and other office work. She even did medical billing and coding for her family's home health business for nearly a decade.
"After I had my youngest, I was tired of never having a stable job and worrying about making ends meet," said Jeudy. "It was time to do something for myself, get a degree; and that's when I remembered TSTC."
Jeudy began her journey at TSTC in the Fall of 2015 nervous and unsure how she would do, especially as the oldest student in her class.
"I was scared, but after my first semester I had straight A's and I lost all doubt," she said. I knew I could do it. I even became the class den mother."
The Harlingen native would assist her classmates if they needed help and would sit with them to encourage the completion of their homework.
Her goal was to have everyone graduate together. She succeeded.
"There was no reason to not succeed in this program," said Jeudy. "Every instructor had an open door policy and was always willing to help. It was refreshing seeing instructors care so much about the success of their students."
Jeudy even served as the president of the Chemical Technology Club.
All of her experiences as a student, she said, prepared her for her current position as a lab assistant.
"I love my job and the sense of being part of something bigger than me," she said. "Everyone was welcoming. My colleagues and students have become a second family to me."
She said her job is rewarding and after completing a recruitment presentation at her alma mater – Harlingen High School, she said everything for her has come full circle.
"Being back on my high school campus reminded me about the TSTC guy who talked to us when I was a senior. Little does he know how his visit has impacted my life," she said. "I hope that my visits can impact someone the same way."
Jeudy said she is thankful for the opportunities that TSTC has given her, as a student and staff member. And although she already feels accomplished, she is eager to keep moving forward for herself and her daughters.
Jeudy's middle daughter is about to complete her first semester at TSTC and Jeudy is also completing classes at the college so she can begin working toward a bachelor's degree.
"I don't want my girls to wait as long as I did to get a college education," she said. "I want them to lead a better life and I want to set that example."
She said she eventually wants to find a job in the industry as a plastics researcher, to create plastics using renewable and biodegradable resources.
"Because of TSTC I'm doing better for myself and my daughters," said Jeudy. "I highly recommend the college, not because I work here, but because it has changed my life."
For more information on Chemical Technology, visit tstc.edu.
Registration for Spring 2019 is underway. The deadline to register is January 2.
TSTC Auto Collision and Management Technology Program Receives National Grant
November 14, 2018
(WACO) – Texas State Technical College's Auto Collision and Management Technology program will soon buy new equipment because of a recently awarded national grant.
The program has received a $1,000 Ultimate Collision Education Makeover Grant from the Collision Repair Education Foundation. The announcement was made in late October at the 2018 Speciality Equipment Market Association Show in Las Vegas, Nevada. The money will be available in January.
High school and college auto collision programs undergo a rigorous application process to be considered for the grants.
Clint Campbell, TSTC's statewide Auto Collision and Management Technology chair, said it took two months to complete the application, which includes information on the program's budget and student job placement, as well as recommendations from industry representatives.
"It's a good deal for the program," Campbell said. "It makes sure you are doing things correctly and for the right reasons."
Campbell said it is not only critical to the auto collision industry to teach students how to repair dents and paint, but also to use technology to reset collision avoidance systems being built for new vehicle models. Securing grants to purchase new equipment enables the program faculty to use money in areas where it is most needed.
John McIntyre, 33, and Blake McIntyre, 28, both of San Angelo, are working toward Auto Collision Refinishing certificates and are scheduled to graduate next summer.
The brothers chose to attend TSTC to learn techniques to use for a restoration shop they want to open in their hometown after graduation. They want to purchase older models of trucks, rehabilitate them and sell them at automotive auctions.
"Automotives are a passion," John McIntyre said.
Blake McIntyre said he had an extra motivation for pursuing the certificate: He has been dissatisfied with past automotive paint jobs. He said his favorite class so far has been Automotive Plastic and Sheet Molded Compound Repair.
TSTC in Waco has about 90 students pursuing the program's associate degrees and certificates.
For more information on Texas State Technical College, go to tstc.edu.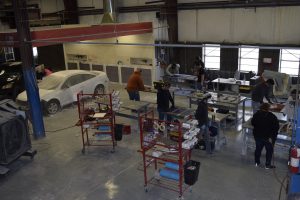 TSTC Student Takes Degree Overseas
November 12, 2018
(SWEETWATER) — Living in a foreign country is a dream to most, but getting paid to live in a foreign country is the way Texas State Technical College student Kaitlin Sullivan is realizing that dream.
Sullivan is expected to graduate this fall from TSTC in Sweetwater with an associate degree in Wind Energy Technology and has already accepted a job with Koenig & Bauer, the oldest functioning printing press manufacturer in the world. She will complete her apprenticeship in Germany for two six-month terms, then train with a technician in Dallas for three months until being upgraded to a technician job herself.
"This is an amazing opportunity," Sullivan said. "I am so excited to travel and learn more about the culture and lifestyle in Germany, all while doing something I'm genuinely interested in."
Although this is not the path Sullivan ever expected to be on, she is not looking back.
"I did the traditional four-year college, how 'society' expects you to, and I couldn't find a job I liked," Sullivan said. "So after a year of job searching, I decided I needed something different and came to TSTC."
Sullivan completed her bachelor's degree at Tarleton State University, but after having trouble finding a job she was interested in, she took some inspiration from her hometown and made a change.
"I'm from Dumas in North Texas, where there are tons of wind turbines," Sullivan said. "They're fascinating to me. So I did some research, and TSTC popped up with the right program."
Upon arriving at TSTC, Sullivan immediately impressed her instructors with her drive and dedication to education. Wind Energy Technology instructor Billie Jones taught Sullivan in at least one class each semester and recognized her ambition.
"There is nothing Kaitlin can't do once she dedicates her mind to it," Jones said. "One of the first things she said to me was that she was in competition with everyone else, just that no one knew it yet. I believe it was that mentality and her willingness to learn that got her where she is today."
While the job Sullivan accepted is not in her degree field, it is associated with the sister program, Electromechanical Technology. Since there was only a five-course difference between it and Wind Energy Technology, Electromechanical Technology instructor Ron Rendon agreed to meet with Sullivan and help her cross-train.
"Kaitlin is a great leader and very willing to learn. She doesn't like not knowing," Rendon said. "She will be a huge asset wherever she works, and I think she'll do amazing things."  
For anyone hesitant to take the alternative route from a four-year degree, Sullivan says don't be afraid.
"People told me I shouldn't or couldn't do it," Sullivan said. "And I'm glad I didn't listen because I got this job offer two semesters before graduation. Don't let them tell you you can't, and if they do, prove them wrong."
Sullivan is expected to graduate on Monday, December 10, at 7 p.m. in the Abilene Convention Center.
For more information about Texas State Technical College, go to tstc.edu.