TSTC, TWC partnership provides manufacturing training for local companies
September 24, 2018
(HARLINGEN) – Michael Durant, a mechatronics tool and die maker at AdTech Plastic Technology in Harlingen has not been in a classroom since the 1980's, but thanks to a partnership between Texas State Technical College and the Texas Workforce Commission (TWC) he is back and ready to learn.
"I love learning. You're never too old to learn," said the 49-year-old sitting in industrial math. "It feels great to be back and I'm excited for this opportunity."
Durant and others from Fox Valley Molding and Aloe Laboratories in Harlingen and Sauceda's Precision Grinding in San Benito make up a Harlingen Consortium that was recently awarded a $155,721 Skills Development Fund Grant for a full year of training.
TSTC's Workforce Development and Continuing Education Executive Director Isidro Ramos said training provided by the TWC is crucial for companies, especially those with less than 100 employees.
"Technology is constantly evolving and it's important for companies to keep their employees up to date," said Ramos. "It's a competitive industry and to remain competitive and keep production high, training is a priority."
David Blackburn, Fox Valley Molding general manager, who has participated in other TSTC trainings in the past, said continual training is crucial. He will be sending various employees from the tool shop and maintenance to TSTC.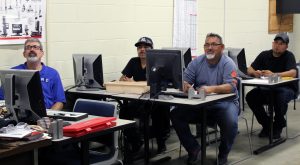 "We've always had a great experience with TSTC. It's always a great learning experience for my employees," said Blackburn. "So when this opportunity became available, we couldn't pass it up."
"I've personally seen skill sets improve, employees gain a better scope and understanding of their work and our production increase," he added. "So I'm looking forward to seeing what we'll gain at the end of this training."
Employees from the four companies that make up the consortium began training this month and will take classes such as basic blueprint reading, industrial math, basic supervision, programmable logic controls and Occupational Safety and Health Administration (OSHA) 10.
All training is customized to the companies' needs and will be performed at TSTC and on-site.
Nathan Hernandez, a toolmaker apprentice at Fox Valley Molding, sat in Industrial Math with Durant, and as a TSTC Precision Machining Technology grad, being in the classroom was déjà vu.
"Knowing that my professional development is important and being given this opportunity is appreciated," said the TSTC alum. "I'm hoping to learn as much as I can and I look forward to implementing what I learn into my daily work."
As for Durant, who has been in the industry nearly three decades, he is excited to learn about new technologies and techniques.
"I'm just hoping to come out smarter than I came in," he said with a laugh. "But in all seriousness, a lot has changed in our field, and new technology is introduced constantly, so I'm hoping to get myself up to speed on a lot of it with this training."
TSTC has hosted other consortium trainings in the past thanks to Skill Development Fund Grants from the TWC with local manufacturing companies such as Saint-Gobain, Prism, Rich Products and Portage Plastics.
"Employers look forward to these trainings," said Ramos. "This partnership is way for us to enhance our manufacturing industry and economic development, while providing quality training, which is our forte."
For more information on the courses and services offered by TSTC's Workforce Development and Continuing Education, call 956-364-4590 or visit tstc.edu/workforce/ce.
Student Success Profile – Christopher Martinez
September 24, 2018
(HARLINGEN) –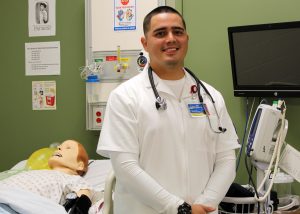 Christopher Martinez is pursuing a certificate from Texas State Technical College in Vocational Nursing. The Harlingen native, who holds a 3.5 grade-point average, expects to graduate in Summer 2019.
The 26-year-old said nursing is something he has wanted to do since he was a child because it allows him to help others and                                                                                                   make a difference in lives.
What are your plans after graduation?
After I graduate I hope to find a job in my field and return to TSTC to pursue registered nursing and earn my associate degree.
What's your dream job?
My dream job is to become a traveling nurse, working in different hospitals in different parts of the country, and working in either an emergency room or cardiology department.
What has been your greatest accomplishment while at TSTC?
My greatest accomplishment while at TSTC has been maintaining my GPA in a program well known for its challenging and competitive nature.
What greatest lesson have you learned about yourself or life?
The greatest lesson I have learned is that I am my own worst critic. I've learned to not be so hard on myself and be more confident in what I do.
Who at TSTC has influenced your success the most?
I cannot just name one person, everyone in advisement and the vocational nursing program has influenced my success. Advisement was my stepping stone into this college and advisors have never led me wrong and I admire the experience and knowledge of the faculty in my program.
What is your advice for future TSTC students?
My advice for future TSTC students is to be dedicated to your chosen career and path. This will take you a long way.
TSTC agriculture program welcomes PhD researcher to the team
September 24, 2018
(HARLINGEN) – Growing up in Egypt, Dr. Sheren Elsayed Farag remembers she dreamt of being a plant scientist and she was determined, no matter what, to make it happen.
Today, Farag is the newest Agricultural Technology instructor at Texas State Technical College and brings more than a decade of agriculture engineering and technology experience to the classroom.
"I was inspired by a teacher I had when I was small. He would take us to fields around our school to study the crops and soil," said Farag. "And now I want to inspire other students who also want to pursue the same career path."
The 32-year-old said she is excited to be at TSTC and cannot wait to begin implementing technologies used in agriculture.
"There are so many new technologies in agriculture that help make the job faster and more efficient," said Farag, as she set up the program's latest drone. "And to make our students more marketable and competitive when looking for jobs, they need to have knowledge and training in this technology."
Farag's first step in her mission is to implement drones in her curriculum.
The program has a total of five drones, four are consumer standard easy-to-fly drones for aerial photography and the other is a Multispectral Imaging Drone, popular to the agriculture field, to manage crops, soil, fertilizing and irrigation more effectively.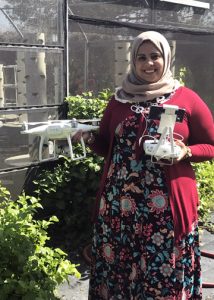 "Drones are the most utilized and popular technology in our field. And not many people are trained to use them," she said. "So our students will be ahead of the game and this specialized training will improve their job outlook."
Farag knows all too well the competitive nature of the industry and the types of opportunities students can have access to with this type of training.
Farag earned a bachelor's and master's degree from Alexandria University in Egypt in Soil and Water Science and Soil Fertility and Plant Nutrition in 2006 and 2008 respectively.
She went on to earn her second master's degree and doctoral degree in Agricultural Engineering from the University of Seville in Spain in 2011 and 2014.
Farag also holds a post graduate diploma in Integrated Planning for Rural Development and Environmental Management from the International Center for Advanced Mediterranean Agronomic Studies.
"I have faced a lot of bias as a woman entering a male-dominated career," said Farag. "It hasn't always been easy, I'm proud of what I have been able to accomplish and I hope to get more women interested in pursuing a career in agriculture."
And Farag should be very proud. She received a couple of prestigious fellowships in her field from the Spanish National Research Council in partnership with Junta para la Ampliación de Estudios and from the International Fellowship from American Association of University Women, she was the only doctoral candidate selected.
It was the American Association of University Women that helped her get to the United States in 2016 and work as a Post-Doctoral Research Associate for the Texas A&M AgriLife Extension Service in Weslaco, beginning her extended stay in the states.
Sammy Gavito, TSTC state lead and instructor for Agricultural Technology, said Farag's knowledge in agriculture, soils, soil fertility and irrigation is impressive.
"She brings great knowledge in precision agriculture," said Gavito. "In particular, she brings great knowledge in global positioning systems (GPS) and geographic information systems (GIS) and the ability to teach drone technology to our students. And new technology is the direction our agriculture program is going."
Before coming to the U.S., Farag also worked with a fertilization company developing new fertilizers, as a researcher monitoring irrigation, fruit trees, soil, water and managing plant development in Egypt and Spain.
And for four months, Farag spent time at Texas A&M-Kingsville as a plant physiologist controlling irrigation using meters and sensors.
"I've had so many great opportunities throughout my career," said Farag. "And although bias, beliefs and prejudice in my home country were big obstacles for me, I've always kept my eye on my goals and focused on positivity to overcome it."
Farag who knows multiple languages,  English, French, Arabic and Spanish, enjoys travelling, especially back to Egypt where her family stayed and said although she misses them she's ready for her new adventure at TSTC.
"All I want is to help make a big difference in students' lives and make them aware of the research, opportunities and growth that the agriculture industry has to offer," she said.
For more information on TSTC's Agricultural Technology, visit tstc.edu.
TSTC Initiative Bets Students Can Find Jobs
September 21, 2018
(WACO) – Texas State Technical College is betting you not only get a job, but that you will get a great-paying one when you graduate.
That is why TSTC offers a Money-Back Guarantee on its most in-demand programs. If you do not get a job, you will get your tuition back, guaranteed.
TSTC's Money-Back Guarantee began in November 2016 and is for students pursuing associate degrees in Diesel Equipment Technology, Electrical Lineworker Technology, Electrical Power and Controls, Instrumentation Technology and Welding Technology. The technical programs were chosen because they are in high demand in Texas.
So far, 51 students statewide are enrolled in the initiative, said Kacey Darnell, executive director of TSTC's Career Services and Talent Management.
"Even though the programs in the Money-Back Guarantee have high job placement, signing up for the Money-Back Guarantee is like having an insurance policy, and it will cost participating students nothing," Darnell said.
Students in these programs are eligible to sign up with campus Career Services and Talent Management representatives. Students who are not hired in their field within six months after graduation may be eligible to get a refund for their time at TSTC.
Cody Russell, 29, of Dublin, Texas, is pursuing dual associate degrees in Electrical Power and Controls and Instrumentation Technology. He said the Money-Back Guarantee was like a security blanket. He is scheduled to graduate with both degrees in December 2019.
"Anything after the fifth semester and if you are double-majoring, start consulting with Career Services," Russell said.  
Michael Bowers, TSTC's vice president of student learning, said the students who sign up for the initiative can have access to lessons on resume writing, interview techniques and other employment skills.
Robert Lovelace, a TSTC master instructor and statewide department chair in the Instrumentation Technology program, said there are at least 90 new students in the program this semester at TSTC in Waco.
"The students are advised of the Money-Back Guarantee program in the registration process," Lovelace said.
He said several instrumentation jobs in the oil and gas industry are along the coast, in West Texas and the Panhandle. Graduates who pursue the field can become electrical and electronics engineering technicians, and commercial and industrial electrical and electronics repairers.
For more information on Texas State Technical College, go to tstc.edu.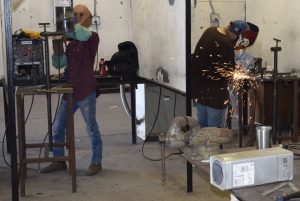 TSTC grad, Needville native made childhood dream come true
September 20, 2018
(FORT BEND) – Grant Siebrecht knew he wanted to become a diesel mechanic, but with pressure from his family to attend a four-year university he thought his dream was impossible, until Texas State Technical College opened up in his community.
"TSTC had great timing," said Siebrecht. "It had everything I was looking for in a college and because of it, I am now doing what I love."
The Needville native was a new high school graduate in 2016, the same year TSTC in Fort Bend County opened its doors, and much to his surprise, Diesel Equipment Technology was an offered technical program.
"I went through some disapproval from some family members because it was a technical school," said Siebrecht. "But I knew a four-year degree wasn't for me. I needed to work with my hands and this place had it all."
With support from his grandfather from the get-go, Siebrecht received emotional and financial support from him, with the rest of the family following suit when they realized how happy and how much Siebrecht was achieving.
"I used to watch my dad work on cars and trucks as a hobby. It was fascinating and I knew that's what I wanted to do when I grew up," he said. "And without the support from my grandfather and family, I wouldn't be where I am today."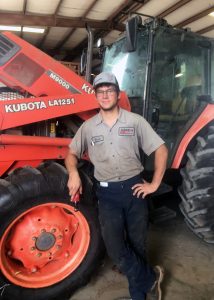 In fact, Siebrecht loves mechanics so much he took a part-time job while in high school at a local mechanic shop, the same place his family would take their car when it needed repairs.
"This was a great experience for me as a high school student. It laid out my foundation in the industry," he said. "And attending TSTC just took it to another level for me."
The 21-year-old was among the program's first cohort to graduate in 2017. And with honors, a certificate in Diesel Equipment Technology, a 3.7 grade-point average and a job offer in hand, Siebrecht was ready to face the world.
"TSTC was a great place of learning for me. All of the hands-on training and knowledgeable faculty made my experience there worth my while," said Siebrecht. "My classmates and I learned so much and the student life was great. Everyone was so nice and welcoming."
Siebrecht credits TSTC Diesel Equipment Technology Instructor Spencer Paige for much of his success because of his knowledge, patience and experience.
"Spencer was great. With his teaching, training and letter of recommendation, I got a job before I even graduated. Not many people can say that about their college," he said.
Siebrecht started his career at Hlavinka Equipment Company in Rosenberg as a diesel technician and has now been there for a year and half.
"I work on off-road equipment and tractors, have a steady paycheck and benefits," he said. "What more could a guy ask for?"
Hlavinka Equipment Service Manager Chris Hallman said he knew from the moment he met Siebrecht that he was a great hire.
"I could tell that this was a young man who wanted this position and who actually had a passion to work in this industry. This is what set him apart from other candidates," said Hallman. "And of course knowing that he received his training at TSTC was an added plus."
Hallman added, "He is a solid worker, not afraid to get his hands dirty and get the job done and has a concern for safety. He is definitely a great asset to our company."
Siebrecht said he will be visiting TSTC again soon because he plans on beginning the path toward an associate degree in Spring 2019 because he has bigger dreams he is working toward.
"I hope to someday own a diesel shop and work on diesel truck performance and heavy equipment," said Siebrecht. "I'm a turn-the-wrench type of guy and I have to continue my education and getting experience to make this happen."
Diesel Equipment Technology is offered at TSTC's Fort Bend County, Marshall, North Texas, Sweetwater and Waco campuses.
For more information Diesel Equipment Technology, visit tstc.edu/programs/DieselEquipmentTechnology.