TSTC Recruiters Bring Enthusiasm to New Roles
July 23, 2018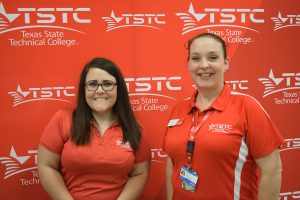 (HUTTO) – Texas State Technical College recently welcomed two new student recruiters at its Williamson County campus.
MaKenna Honea, of Georgetown, and Brittany Hoke, of Pflugerville, joined the TSTC team at the beginning of June.
Before joining TSTC, Honea worked in the food and bar industry for four years.
"I wanted to find somewhere to grow professionally and start a career," she said. "I wanted to work somewhere I'd be held to higher standards and have more responsibilities."
She relishes her new role as a recruiter.
"It's challenging, but it's rewarding," Honea said. "Every day is something different, which is fun."
While Honea enjoys the team she works with, she is happy to be helping local students map out their futures.
"It's cool that I get to be somebody I wish I would've met in high school, reaching out to kids," she said. "If I would have had a recruiter, things probably could have been really different for me."
Hoke enjoys that aspect of the job as well.
"I like getting to help students figure things out that I didn't figure out when I was younger," she said. "Getting to help introduce kids to TSTC is pretty awesome because it is such an affordable education."
Before coming to TSTC, Hoke worked with the Texas secretary of state's office as an employee of Registered Agent Solutions Inc. and was also a child support officer. She was excited to take on her role at TSTC.
"It was a completely different opportunity than anything else I had seen," she said. "The pride of the staff is really eye-opening."
Both women stand behind the school's mission — to place more Texans in great-paying jobs.
"We are all about students," Honea said. "We're not just about numbers; we're about the actual people."
Hoke shared those sentiments.
"TSTC is something I can stand behind," Hoke said. "It's a good message, a good education and a good value."
Coordinator of Recruitment Melissa Morman said she is happy to have finally completed her team of recruiters.
"Having Brittany and MaKenna join the student recruitment team has really been the fuel this department has needed to have more of a presence in the surrounding areas," she said. "With Pflugerville and Georgetown natives on board, it gives us the insight to share our mission of placing more Texans along with spreading the TSTC message."
TSTC prides itself on being "a great place to work" and is currently hiring for positions at its 10 campuses statewide. For information on open positions at TSTC, visit tstc.edu/about/employment.
Maintenance mechanic celebrates three decades at TSTC
July 23, 2018
(HARLINGEN) – Joe Ramos is celebrating 30 years at Texas State Technical College and a career that was life-changing in many ways.
The 52-year-old is now the maintenance mechanic at TSTC in Harlingen, but he started as a part-timer in the custodial department in 1988 when the college was Texas State Technical Institute.
"I didn't think I'd make it to 30 years. Time flies," said Ramos. "I had given myself six months max when I first started, but it (TSTC) turned out to be the place where I was meant to be."
The San Benito native grew up a migrant worker, traveling to Northwest Texas every summer with his family to work in the cotton fields and gins of Memphis, Texas.
"It wasn't my favorite thing to do during summer vacations, but it's what put food on our table and a roof over our heads," said Ramos.
For Ramos, working in the fields was temporary; it was not something he wanted to do forever.
However, at 17 he got married, dropped out of high school and fou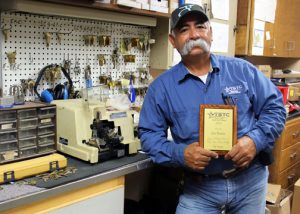 nd himself at the gins working maintenance, even during off-seasons.
"At this point the cotton farm was more seasonal than now," he said. "I was a husband and had responsibilities. It was my turn to support my wife and our future family. I had no choice but to work."
It was then that Ramos realized he would not get far without a proper education, so he and his wife moved back to the Rio Grande Valley. Through a federally funded job training program, Ramos was able to earn his GED diploma and start working at TSTC.
"I loved TSTC, so when a full-time position in the custodial department became available, I jumped at it," he said. "And like they say, the rest is history."
Through the years, Ramos has grown with the college, even completing his certificate in Welding Technology and becoming a certified welding inspector.
To this day he continues to learn and is currently enrolled in TSTC's Continuing Education National Center for Construction Education and Research (NCCER) Electrical Level 1 course.
"TSTC prides itself on being a great place to work, and for me it truly has been," said Ramos.
"From the opportunities I've been given, the benefits I receive, to the people I have met and get to work with, I can't imagine myself anywhere else."
Ramos' son, Danny, is enrolled at TSTC in the Agricultural Technology program and is currently interning with the U.S. Department of Agriculture.
"TSTC really has given my entire family opportunities and has changed our lives," said Joe Ramos.
TSTC Building Maintenance Supervisor and Interim Physical Plant Director Roberto Chapa has worked with Ramos for 10 years and said he is a great asset to the TSTC family and is proud to have him on his team.
"I want to congratulate him on his 30 years, and I want him to know we appreciate everything he does," said Chapa. "He is dependable, a problem solver and everyone's helping hand."
Chapa added with a laugh, "I hope he doesn't retire anytime soon, at least not before me. He saves me a lot of headaches."
Ramos said he hopes to be at TSTC for another 30 years — as long as he is still able to work and TSTC will have him.
"I was a youngster when I started, and I can't believe I've made it this far," he said. "Thank you, TSTC. It's been a pleasure."
Student Success Profile
July 23, 2018
(HARLINGEN) –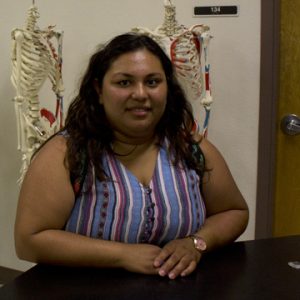 Ailina Rojas, 26, of San Benito expects to graduate in August 2019 with an associate degree in Surgical Technology. She currently holds a 3.6 grade-point average and aspires to attend medical school and eventually become a surgeon following her graduation from Texas State Technical College.
What are your plans after graduation?
I plan on finding a job in the Houston area, the "medical mecca" of Texas. Houston is a growing area in both medicine and technology, which would benefit me as a prospective employee. There are plenty of opportunities there that I am excited to pursue.
What's your dream job?
My dream job is to become a surgeon. Graduating with my associate degree in Surgical Technology is the first step in that process. I have always known that I wanted to venture into the medical field, and while I was exploring the different programs at TSTC, Surgical Technology caught my eye. After observing a surgery, I immediately knew it was the right fit for me.
What has been your greatest accomplishment while at TSTC?
Going back to school has been a challenge for my family since I have four kids. We have had to make many sacrifices, especially since my recent separation. I have had to assume the role of mom and dad and still pass my classes. Amidst this, I still made the dean's list, so that's something I definitely consider an accomplishment.
What greatest lesson have you learned about yourself or life?
I have learned recently about perseverance. Life can be tough at times, but never give up when it gets hard. That is when I learned the most about my own strength. Getting through school while supporting my kids on my own is a challenge, but it will pay off in the end. That is how I motivate myself.
Name a TSTC person who most influenced your success.
I have had great teachers across the board; no one in particular is better than the other. They are all helpful, and their various teaching styles are effective. Their hands-on approach is what I enjoy most.
What is your advice for future TSTC students?
My advice is to be ready when you enroll. School is a huge commitment, and if you're not willing to put your all in it, then what's the point? But, if you are mentally ready for this commitment, then go for it. And remember, it is never too late to pursue your education. I am 26 years old and came back after having kids. If I can do it, so can you!
TSTC alum and local pharmacist to serve as TSTC commencement speaker
July 23, 2018
(HARLINGEN) – It was in 1996 when Michael Muniz first stepped foot in Texas State Technical College as a computer maintenance major, but after some soul-searching, Muniz grew up to be a pharmacist. He will share his wisdom and experiences with TSTC graduates next Friday as the Summer 2018 commencement speaker.
"I was surprised when I received the invitation to be speaker," he said. "I never even thought this was something I would be considered for, and now that the initial shock is over, I'm excited and honored."
Muniz was selected as commencement speaker because of his alumni status and the success he has found since he graduated from the college — even though his life took him in a different direction from his initial plan.
At age 13, Muniz started building computers, but when he enrolled in computer maintenance classes at TSTC, the subject was no longer exciting to him. So he changed majors and chose chemical technology, but it still did not give him joy.
"I could not find my passion, so I concentrated on working instead," said Muniz. "I needed some time, but it took longer than expected to return to school."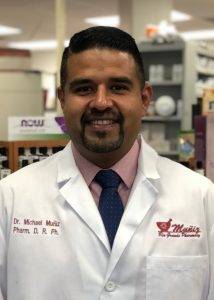 After six years, a job at FedEx and working as a medical billing clerk for a local surgeon, Muniz decided to pursue surgical technology at TSTC, earning a certificate in 2004.
"After observing the doctor I worked for and sitting in on surgeries, I knew surgical technology was for me," said Muniz. "It was exciting, but I wasn't done — I wanted to be the surgeon."
Of course, for Muniz, life happened. And with a wife and three children, he knew medical school was not an option.
So after tutoring students from the pre-pharmacy program at the University of Texas at Brownsville (now University of Texas Rio Grande Valley), where he also graduated with a bachelor's degree in biology and chemistry, he decided to pursue pharmacy school.
He earned a Doctor of Pharmacy degree from Texas A&M University-Kingsville in 2012 and completed a metabolic and nutritional medicine fellowship through George Washington University.
"I am no different than most of the students out there right now," he said. "I was undecided, and it took me time to find what I wanted to do. But TSTC helped me find my passion and set my foundation."
Muniz added, "It's been a good ride. I've had wonderful experiences, great mentors, and the Lord has guided me. For me it's all about helping people, and my profession allows me to do that in different ways."
Muniz, who also has been a guest speaker for surgical technology pinning ceremonies, said he hopes to pass a message of hope and encouragement that will invigorate TSTC graduates and current students to keep pursuing their goals and dreams.
"It doesn't matter where you go to school; it's what you make of your situation," Muniz said. "TSTC provides a quality education that leads to great careers. Plus, for many, it's affordable and close to home, and I hope many of the college's graduates realize how lucky they are to be part of such a wonderful institution."
While Muniz still practices as a pharmacist at his uncle's pharmacy, Muniz Rio Grande Pharmacy in Harlingen, he is also opening his own shop: Krave Market, a one-stop health-food market for people living on ketogenic, paleo, gluten-free or Whole30 diets.
"This is an exciting time for me. I get to serve the community I grew up in by helping them stay healthy and fuel their body through nutrition — all thanks to the education and experiences I had at TSTC and thereafter."
Muniz said he hopes to continue serving TSTC students through guest lectures and speaking engagements.
TSTC Alumna Finds Career Path at Country Club
July 22, 2018
(WACO) – During last year's Independence Day festivities, Danielle Woodard was on Lake Waco watching the fireworks put on by Ridgewood Country Club.
By this year's Fourth of July, Woodard, 42, was the country club's new director of communications. A 2016 graduate of Texas State Technical College's Visual Communication Technology program, she began the job in early June.
After graduation she had stints at First Woodway Baptist Church, the Waco Tribune-Herald and in retail before learning from TSTC instructors about the open position at the country club.
"I never even saw a job posting," Woodard said.
She is the country club's first communications director. Some of the work she has done so far include building its social media presence and designing and editing the country club's bimonthly publication, The Rambler.
"Thanks to my education, I am totally prepared," Woodard said. "There is a lot of potential. We want to put our best foot forward."
She also works on internal communications about the country club's special activities for all ages, including golf tournaments and an annual member appreciation event.
"We try to brand each event," Woodard said. "I love branding and enjoy it."
She said the country club is member-owned, so they do not use traditional advertising methods. The country club has more than 1,000 members.
"I am so thankful when I pull through the gates and go down the canopied drive and see the lake," Woodard said. "It is so beautiful."
Woodard graduated in 1994 from Midway High School and studied marketing for three years at The University of Texas at Austin. Before her scheduled graduation, she moved to California.
"California is where I discovered I wanted to be a designer," she said. "I tried to go to school full time at night and work full time. I could not maintain work and going to school."
She later moved to Seattle, then returned to Texas in 2006. She did online classes and found they were expensive.
She visited TSTC and learned that some credits from her previous college experiences could be transferred. She started classes at TSTC in 2014.
"It felt like coming home and where I belonged," Woodard said.
Jennifer Piper, a TSTC Visual Communication Technology instructor, said Woodard was a dream student.
"She never really shied away from asking questions," Piper said. "She did her work and did it really well."
TSTC offers the Associate of Applied Science degree in Visual Communication Technology, which includes classes in art direction, digital imaging, digital publishing and other topics.
"In all the classes, we encouraged the students to take their own photography to incorporate into their own pieces," Piper said. "We encouraged them to use their own drawings. We want them to make the work personal."
For more information on Texas State Technical College, go to tstc.edu.