TSTC is Gold: A Look into the Past and the Future
December 12, 2017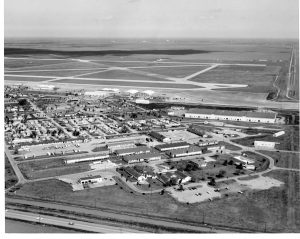 (HARLINGEN) – Texas State Technical College's Harlingen campus is celebrating 50 years of service to the South Texas region, and some prominent locals are reminiscing on how it all started.
"It was a small campus when I started working there, about four buildings, military barracks that served as dorms and an RV park where the library is today," TSTC retiree Mike Buck remembered.
Buck worked at TSTC for nearly 32 years from 1976 to 2008. When he retired he was the Vice President of Administrative Services and had seen the campus undergo numerous changes through his tenure.
"I remember when it was a campus of 600 students," said Buck. "And now the college is serving thousands of students in the area and statewide. That's significant."
TSTC was first introduced to the region in 1967 as the James Connally Technical Institute. In 1969, it turned into an independent state system and became Texas State Technical Institute.
Finally, in 1991, TSTI was designated a college and renamed TSTC that many know it as today.
Since 1970 to most recently, the college has built and dedicated at least 26 buildings on campus equipped with state-of-the art technology labs and offers nearly 35 programs of study.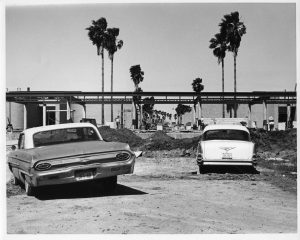 Interim Provost Rick Herrera said this milestone recognizes TSTC's presence in the Rio Grande Valley.
"It's been 50 years since the first class started at TSTC in Harlingen," said Herrera. "And it's important to recognize the significant impacts TSTC has made while serving the Valley and the state."
To date close to 30,000 students have graduated from TSTC's Harlingen campus into the state's workforce, earning certificates and associate degrees in high-demand technical careers. These students join the more than the 100,000 who have graduated from the college's 10 campuses statewide.
Serving as TSTC's leader for more than 30 years, Dr. J. Gilbert Leal was on the front lines and recalls some of the college's history like it happened just yesterday.
"It's hard to believe 50 years have flown by and TSTC is still here doing great things," said Leal. "Many people gave us a chance and TSTC has proved time and time again that although it was a challenge to grow, we persevered."
Leal began at TSTC as an Adult Basic Education instructor while TSTC was still TSTI sitting on only 25 acres and offering a handful of programs.
As the campus and its services grew, he served front and center as the Director of Admissions, then the campus' General Manager from 1978 to 1983 before he was promoted to President of TSTC in Harlingen.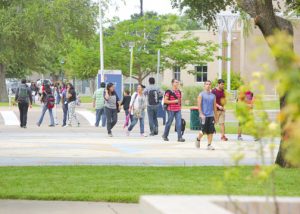 "TSTC has transformed so many lives through the years," said Leal. "I'm proud to have played an integral role in that."
What Leal means is that early on TSTC has been the leader of training and providing students with the technical skills they need to be successful, placing these same students in good-paying jobs throughout the state and attracting industry to the areas where TSTC campuses are located.
Retired TSTC Provost Al Guillen, who worked at the college for 26 years and as the Vice President for Student Learning, said the introduction to industrial advisory committees had a positive impact for the students in the area.
"Each program has an advisory committee that guides faculty and staff in a program's curricular evolution as industry changes," said Guillen. "Advisory committee members also serve as direct graduate placement contacts which has led to TSTC's high job placement rates, many before graduation."
Guillen added that the Rio Grande Valley is very fortunate that TSTC has been in the region for the last 50 years because much of the population has benefited from hiring local TSTC graduates while many families gained their first college graduate.
"The college has helped break socio-economic cycles that had existed for generations by providing its graduates with employment qualifications that allow them to become professionals and influential citizens of the state," said Guillen.
Executive Director of Workforce Solutions Cameron and retired TSTC Provost and Vice President of Instruction Pat Hobbs calls TSTC's presence in the Valley an extremely positive factor in economic development as a training provider for current and incoming industries.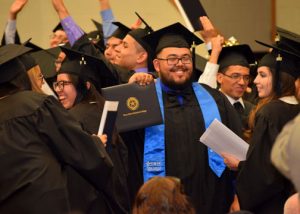 "TSTC is renowned for its industry-trained faculty and high quality graduates with a consistent job placement rate over 95 percent," said Hobbs. "In the current economy, where up to 80 percent of jobs require technical credentials above the high school diploma, but not a bachelor's degree, the value of a premier technical college in our workforce area puts our region at a distinct advantage."
Hobbs added, "Our Valley would not be what it is today without TSTC in Harlingen's contributions to workforce development."
Javier Deleon, TSTC's Executive Vice President of Governmental Affairs, has been with TSTC for 30 years and said it has been an honor working with TSTC Chancellor Mike Reeser, former TSTC President Cesar Maldonado, President Emeritus Leal and other colleagues like Guillen.
"Under Leal's and Maldonado's leadership TSTC saw huge transformations in campus size, program offerings and student population," he said. "And now Chancellor Reeser is catapulting us to the next level."
Deleon said he is excited to see where the next 50 years takes TSTC, especially with the new direction the college is taking with its outcome-based funding model and money back guarantee initiative recently implemented.
"We are where we are today because of progression," said Deleon. "And because of the support we have received from past and current state legislators and community leaders. Without them nothing could have been possible."
Deleon encourages everyone to remember TSTC's past, but to also look toward the future and how TSTC is leading the way in higher education.
In the words of Guillen, "Long live TSTC and long live TSTC in Harlingen."
Student Success Profile – Daniel Gonzalez
December 12, 2017
(HARLINGEN) – Daniel Gonzalez's journey at Texas State Technical College began his junior year of high school when he started taking college classes to complete his Academic Core by his high school graduation in 2016.
The 19-year-old, Mercedes native is now a Business Management Technology student at TSTC and expects to earn his associate degree in December 2018.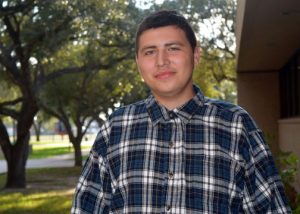 What are your plans after graduation?
After I graduate I plan on returning to TSTC's University Center to get a bachelor's degree in Business Administration.
What's your dream job?
At the moment my dad has side welding and yard-cutting businesses and I help him with the customers, so I feel that with my education and this experience I will someday be ready to open my own business.
What has been your greatest accomplishment while at TSTC?
My greatest accomplishment so far has been earning my first perfect 4.0 grade-point average a couple of semesters back. This opened my eyes and made me realize that I can accomplish more than I think I can.
What greatest lesson have you learned about yourself or life?
The greatest lesson I have learned is that life is too short to hold on to grudges and that we should work toward forgiving and forgetting. A wise veteran and friend shared this wisdom with me before he passed  away a couple of years ago and I've carried it with me since.
Who at TSTC has influenced your success the most at TSTC?
The person at TSTC who has influenced my success the most is Esmeralda Cisneros, textbook representative and cashier at the bookstore. She is always there to lend a hand and she does it with a smile. She is also a great listener, encourager and motivator. I consider her a friend.
What is your advice for future TSTC students?
My advice for future TSTC students is to never give up, always keep trying. At the end of everything you will benefit from your hard work.
TSTC in West Texas Holds Fall Commencement
December 11, 2017
(ABILENE) – More than 120 graduates received certificates and associate degrees at Texas State Technical College's Fall 2017 Commencement held Monday, Dec. 11, at the Abilene Convention Center.
Students from TSTC's campuses in Abilene, Breckenridge, Brownwood and Sweetwater took part in the ceremony.
Many of the graduates already have jobs.
Arnulfo Leyva, 19, of Kermit earned an Associate of Applied Science degree in Diesel Equipment Technology. He began work in the summer repairing bulldozers, backhoes and excavators at Warren CAT in Odessa.
Leyva was a member of Phi Theta Kappa. He said his pride gave him motivation to work hard to become an honor graduate.
"It was fun at TSTC," Leyva said. "I met new people and had a good time."
Some graduates are preparing to job hunt.
Eric Collins, 25, a U.S. Air Force veteran, earned an Associate of Applied Science degree in Aviation Technology. The Laurinburg, North Carolina, native and Abilene resident said he chose his major because of the work he did in the military.
Collins, a Phi Theta Kappa graduate, said he will take Federal Aviation Administration written and practical tests and apply for airplane maintenance jobs in the Abilene area.
Some graduates will continue on with academic work.
Karli Bernal, 26, of Anson graduated with a certificate in Vocational Nursing. She plans to work on her Associate of Applied Science degree in Nursing in Sweetwater.
"It took a lot of dedication and sacrifice," Bernal said about her studies at TSTC. "I have three kids so it takes a lot."
For more information, log on to tstc.edu.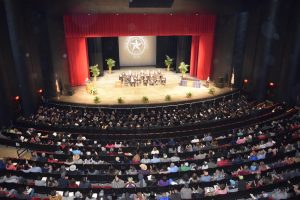 TSTC Alumnus Gives Back with Financial Gift
December 11, 2017
(ROSENBERG) – Steve Hefner knew the time was right in his career to give a financial helping hand to students.
Earlier this year, Hefner donated $10,000 to the Texan Success Scholarship for students attending TSTC in Fort Bend County.
Hefner, senior vice president of construction at Camden Living in Houston and a graduate of Texas State Technical College in Waco, is familiar with the statistics: more than 1.1 million carpentry workers will be needed by 2026 and more than 27,000 brickmasons will be needed in the same period, according to the U.S. Bureau of Labor Statistics. Roofers, managers, drywall and ceiling tile installers and others will also be needed in the construction field as workers retire in the upcoming years.
"You have less people wanting to get into our business and more people exiting," said Hefner. "Tenacity and drive will always outshine people and a good work ethic is key. I have seen our generation change and the millennials today are different. They work smarter and multitask a little better."
"We so appreciate our alumni giving back to our college," said John Kennedy, a field development officer for The TSTC Foundation at TSTC in Fort Bend County. "Supporters such as Steve not only help our current and future students, but it shows how much they value the education they received at TSTC. Steve is a shining example of how one can be very successful as a result of the knowledge gained through technical education."
Hefner hopes the money can help students whose financial means are not the most abundant.
"The thing I'm seeing today are the kids we are hiring have $100,000 debt at 6 percent interest," he said. "They can't get a break to get ahead."
TSTC in Fort Bend County Provost Randall Wooten encouraged TSTC alumni to visit and see the technology that students work with.
"There are numerous TSTC alumni in the greater Houston area who are making a difference every day by applying their skills in a multitude of industries," Wooten said.
Hefner grew up in Lubbock and briefly attended two universities before switching to TSTC in Waco.
"I could not find my way of what I wanted to do and my passion," he said. "My dad was in banking and my family was in farming. I always had a passion and worked in the lumber industry and loved lumber."
Hefner graduated in 1985 from TSTC in Waco with an Associate of Applied Science degree in Building Construction Technology. He said it was a special time to be part of the program because of being able to travel with other students to competitions and the national construction industry boom in the 1980s.
"I remember the day I graduated I had 21 job offers and it was amazing," said Hefner, a resident of Kingwood. "Luckily, I made a choice to do multifamily."
Hefner has been at Camden Living for more than 20 years.
For more information on how to give to TSTC, go to tstc.edu/tstcfoundation/foundation.
For more information on Texas State Technical College, go to tstc.edu.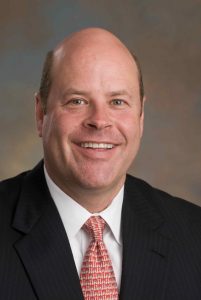 TSTC Holds Fall Commencement
December 8, 2017
(WACO) – More than 550 graduates received certificates and associate degrees at Texas State Technical College's Fall 2017 Commencement held Friday, Dec. 8, at the Waco Convention Center.
Students from TSTC's campuses in Waco, North Texas and Williamson County took part in the ceremony. The Waco campus had 479 graduates, Williamson County had 46 graduates and North Texas had 27 graduates.
Many of the graduates already have jobs and are ready to work.
Anthony Warren, 22, of Gatesville graduated with a machining certificate. He has been working the last few months at Unique Machine Shop in Oglesby as a CNC operator/machinist.
During his time at TSTC, he had a son.
"I did what I set out to do and I will do what I need to do for me and my son," Warren said. "If you pursue what you are good at, you will succeed."
Some graduates are preparing to go to work.
Khadeeja Qurashi, a native of Brooklyn, N.Y. living in Waco, received an Associate of Applied Science degree in Laser Electro Optics. She will start in January her new job as a wafer fabrication technician at Texas Instruments in Dallas.
"I've made it," Qurashi said. "It's amazing and I've learned so much. I'm confident in my abilities and I get to show everyone that when I am walking across the stage to get my degree. TSTC was a learning experience, and it was more than math and science."
For more information, log on to tstc.edu.