TSTC to Host Annual Talent Competition
February 19, 2018
(ABILENE) – Texas State Technical College and "Texas Music Cafe" will host the third annual TSTC Talent Search from 5:30 to 7:30 p.m. on Tuesday, Feb. 27, at TSTC Student Central in Abilene.
TSTC student contestants will perform as soloists, musicians or groups, and the performances will be posted to YouTube, where the winner will be chosen based on the number of likes on their video.
Holly Tucker (runner-up on NBC's "The Voice") will host the competition, which is taking place at TSTC's four legacy campuses: Harlingen, Marshall, Waco and West Texas. The winner from each location will compete in the finals on Tuesday, March 20, in Waco.
Belinda Palomino, TSTC's coordinator of Student Life and Engagement, said the event should be fun for those attending.
"Holly Tucker will be there, hosting and performing," Palomino said. "There will be music and food, so dinner will be provided for anyone attending."
There is no admission charge to attend.
"I'm just happy I'm not a judge," Palomino laughed. "The competition is very hard each year because the students are so talented."
The grand prize is a $2,500 recording contract and a chance to perform in a live taping of "Texas Music Cafe." Runner-up contestants can receive recording gear, a single recording package or a ukulele package.
"Texas Music Cafe" is an hourlong, magazine-style PBS program that is recorded all over the state of Texas in front of live audiences and broadcast nationally on radio, TV and the internet.
Contestants must be currently enrolled as a full- or part-time student at any TSTC location. For more information, visit tstc.edu/texasmusiccafe/tstctalentsearch.
Preschoolers get visit from TSTC 'tooth fairies'
February 19, 2018
(HARLINGEN) – For two decades the Dental Assistant program at Texas State Technical College has organized a community service event at a local Head Start program or preschool to teach children about good oral health care and nutrition.
This semester the 27 students from the program's Dental Prevention class gathered at the Wesley United Methodist Church Preschool dressed as tooth fairies and a tooth mascot to host child-friendly activities.
"Our program is about community service. We work with the community every day," said Dental Assistant lead instructor Jean Lashbrook.
Lashbrook added that the goal of this event is to familiarize children with dental care so they're not afraid of going to the dentist.
"We want to encourage these children to practice good oral care, while giving our students the opportunity to practice patient education and interaction," she said.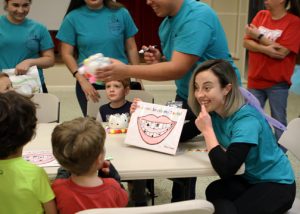 Students like Amanda Garcia, who is in the last semester of the program and vice president of the Dental Explorers Club, taught the preschoolers about brushing, flossing, "good" and "bad" foods, and how to make healthy snacks to try to prevent cavities. There were also coloring stations and games for the children.
"It was a great experience being able to teach these children about brushing and flossing," said Garcia. "This event helped me better understand the importance of communication and how different it has to be, depending on the patient."
Every child went home with goodie bags filled with floss, toothbrushes, toothpaste and everyone's favorite, stickers.
Dental Explorers Club President Clarisa Chapa agreed that it was great getting to apply what she learned in class to a real-world scenario.
"Introducing oral health and healthy foods at this age is beneficial toward their future," said Chapa. "I enjoyed it so much that after graduating I'm thinking about specializing in pediatric dentistry."
Dental Assistant instructor and 2005 program alumna Kristen Deleon said this project is a requirement for anyone pursuing a certificate in Dental Assistant, but it is also what everyone looks forward to.
"This is everyone's favorite project. It's not only a great community service event, but also a positive TSTC memory," said Deleon. "This is the thing alumni reminisce about the most."
After completing the nine-month program, students will earn a certificate and have the skills they need to work as a dental assistant or dental laboratory technician. Many find employment almost immediately at area dental clinics.
"The experience this project gives our students is invaluable," added Deleon. "It prepares them to enter the field."
Dental Assistant is also offered at TSTC's Waco campus.
For more information, visit tstc.edu.
TSTC, local agencies partner for Operation Big Rig
February 19, 2018
(HARLINGEN) – The fourth annual Operation Big Rig was recently hosted by the Continuing Education Department at Texas State Technical College.
More than 50 people attended the half-day awareness event that covered topics such as human and drug smuggling, human trafficking, and recent revisions to federal transportation laws and regulations.
"Overall, the event was a success," said TSTC's Continuing Education transportation coordinator Adan Trevino. "It's important that we spread awareness on issues that affect our industry and those who work in it every day."
TSTC partnered with the Texas Department of Transportation, Texas Department of Public Safety, U.S. Immigration and Customs Enforcement and Department of Homeland Security to make the event possible.
Federal transportation officers and agents in attendance at the event emphasized that if something doesn't look right, then give them a call.
"We want our students to understand that we are all on the same page and here to work together to make their career journey as safe as can be," said Trevino.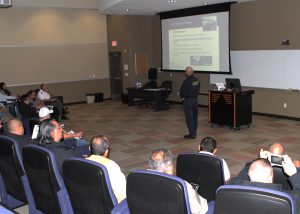 Trevino added that every year the event focuses on different topics, depending on the pressing issues at the time, but its primary goal is to teach students and industry professionals how to keep the community safe and save lives.
"Recent events are showing a rise in human smuggling and trafficking and how unsafe and sometimes deadly conditions are," said Trevino. "We're creating well-rounded professionals, and we want them to be smart and make the best decisions once they're out in the field and know how to spot dangerous situations."
Daniel Deleon, a TSTC Continuing Education Commercial Driver's License (CDL) student, said Operation Big Rig is a great opportunity, especially for someone like him who is new to the industry.
"What TSTC does with Operation Big Rig is great," he said. "It has really increased my awareness of the dangers we face out in the field and how our quick thinking and actions can save lives."
Ernie Garcia, a recent TSTC CDL graduate who already has a job lined up with Spirit Truck Lines in San Juan, said he will take what he learned to help make the roads safer for all drivers and bystanders.
"I will be an advocate for safety in my career," said Garcia. "I learned numerous tips on how to be safe and keep others safe and report suspicious activity."
Operation Big Rig has also teamed up with local truck stops to help spread awareness of human and drug smuggling and human trafficking.
"At TSTC, safety is our No. 1 priority for our students and community," said Trevino. "Together, we can make an impact and keep our streets safe."
For more information on TSTC's Continuing Education Transportation Services courses, visit tstc.edu.
Student Profile – Daniel Reyes
February 19, 2018
(HARLINGEN) –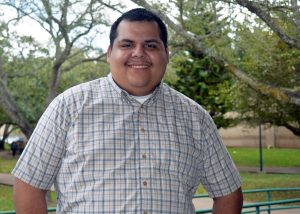 Harlingen native Daniel Reyes is a Welding Technology student at Texas State Technical College. He expects to earn his third associate degree this semester.
His other associate degrees were earned in Auto Collision Technology and Automotive Technology in 2015 and 2016, respectively.
When the 26-year-old isn't in the classroom, he is an active member of several TSTC student organizations, such as Advanced Leadership Academy, Intramural Sports Club, SkillsUSA, Veteran Students Alliance Club and Catholic Campus Ministries. Reyes is also the SGA senator for the Industrial Manufacturing division.
What are your plans after graduation?
After I graduate this spring, I hope to get a job in the automotive industry and gain some experience in my field and save money to open a business. Eventually I want to return to TSTC to get an associate degree in Business Management Technology.
What's your dream job?
My dream is to open a business in Harlingen that will include automotive and welding services.
What has been your greatest accomplishment while at TSTC?
My greatest accomplishment is, honestly, getting this far and being able to earn multiple degrees. For me, school is fun and I love learning the skills I need to be successful one day. My goal is to leave TSTC as well-rounded as possible in my field.
What greatest lesson have you learned about yourself or life?
The greatest lesson I have learned may sound cliche, but it's to never give up. Life has a way of knocking you down sometimes. For me, I never had enough money to eat, so I would literally go days without food. But thanks to the TSTC Student Center food pantry, I was able to pick myself up each time and keep pushing forward and working toward my goals.
Who at TSTC has had the greatest influence on your success?
The people who have had the greatest influence on my success are Library Technician Gamaliel Sauceda, New Student Orientation Coordinator Larissa Moreno and Student Life Coordinator Belinda Palomino. Each one of these people has touched my life in different ways with encouragement, advice and support.
What is your advice for future TSTC students?
My advice for future TSTC students is that when you take your first step into TSTC, choose a major you are passionate about and focus on everything the instructors are teaching you because all of it is going to lead to a successful career someday.
Annual TSTC Open House a Success
February 16, 2018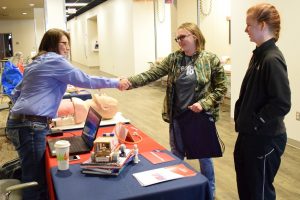 (BROWNWOOD) – Texas State Technical College in Brownwood held its annual open house Friday, opening its campus for tours and to meet with faculty. The event, designed for prospective students who want to learn more about the college, hosted han 50 visitors.
Jeannette Gist, TSTC director of Student Recruitment in West Texas, said they changed some things around this year and it was a success.
"This year we moved everything up and had it a little more condensed," Gist said. "I wasn't sure how that would flow, but I love it. I think it's so fun. People walk right into the party instead of having to walk down the hall to find the party."
Six people applied after visiting with employees.
"We have people who are genuinely interested in TSTC," said Devin Crenshaw, TSTC outreach representative. "That many applicants isn't common for this type of event.  We've also had a lot of people who have already applied and also want to go to the open house in Sweetwater."
Gist said all of the programs saw traffic.
"I saw people at every station," she said. "I think everybody had visitors today. Sometimes everyone is there to see one program, but there was a good mix. The more hands-on our programs can be, the better it is for the prospective student and also the faculty because it draws students. It's a richer experience for both."
Programs such as Diesel Equipment Technology and Environmental Science from TSTC's other West Texas campuses also met with students at the event. Visitors also got to learn about Electrical Power & Controls, Industrial Maintenance Technology and Welding Technology, which will begin in Abilene in the fall with the opening of TSTC's new Industrial Technology Center.
TSTC will hold open houses from 9 a.m. to 2 p.m. at its campuses in Breckenridge and Sweetwater on March 2 and March 23, respectively.
For more information on open houses, visit tstc.edu/openhouse. To learn more about the college and its programs, visit tstc.edu.