TSTC in Waco ELT Program Revamping CDL Course
May 17, 2019
(WACO, Texas) – Students enrolling this fall in Texas State Technical College's Electrical Lineworker Technology program in Waco will have the opportunity to take a restructured commercial driver's license class.
The program's students had previously learned how to drive commercial vehicles on campus.
But now, students in their third semester  at TSTC will take a driving course through McLennan Community College and the American Truck Driving School in Elm Mott. The first class will be taught in summer 2020.
The class is backed by the Federal Motor Carrier Safety Administration, which regulates all registered commercial motor vehicles for interstate freight, passenger and hazardous materials transportation.
"It cuts down on costs for the employer and makes the student more sellable," said Eric Carithers, TSTC's statewide chair for the Electrical Lineworker Technology program.
Representatives of area electric providers said having a CDL is vital for job candidates.
"As an electric utility, it's imperative for us to have employees with a CDL," said Bryan Blanton, a distribution system manager at Southwestern Electric Power Co. in Longview and chair of TSTC's Electrical Lineworker Technology advisory board. "It will be a huge success when graduates come out of TSTC's linemen program already having their CDL."
Craig Ptomey, program manager of craft and field training at Austin Energy, said having a commercial driver's license is a preferred qualification for applicants.
"It is very advantageous for our company to have a new hire that has already met that requirement before we even hire them," Ptomey said. "In turn, it gives them a better chance of being hired, as we do not have to spend time and money and other resources in training them. I think that TSTC does a great service to both their students and the companies that hire them by ensuring that students have their CDL before graduating."
TSTC students will first need to get a commercial driver's license permit before the end of their second semester, said Carithers.
"The students are required to have their permit and also a copy of their driving record," he said. "They need a driving record for every state they have lived in the last seven years. They also need to undergo a drug screening."
For more information on Texas State Technical College, go to tstc.edu.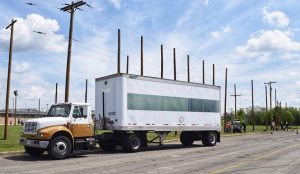 TSTC Electrical Power and Controls Graduates Hired by National Field Services
May 17, 2019
(WACO, Texas) – Six recent Texas State Technical College graduates have been hired by National Field Services based in Lewisville, Texas.
Seth Culver, Ashley Denton, James Fisher, Daniel Garmon, Luke Sanchez and Stephen Wheir all received their Associate of Applied Science degrees in Electrical Power and Controls at TSTC's Spring 2019 Commencement in early May in Waco.
National Field Services has hired TSTC alumni for positions before. Bryan Necessary, an instructor in TSTC's Electrical Power and Controls program, knew Matt LaCoss, the company's South Texas field manager, when they were students at TSTC.
"He knows exactly what we are teaching the kids and what their skills are and what their background is," Necessary said. "A lot of times, he doesn't even have to ask technical questions because he knows what we are going to teach them."
Garmon, of Jacksonville, Texas, said his new job fits with his previous work experience.
"I built power lines for many years and want to get in the transmission side of it to gain knowledge and experience," he said. "I feel National Field Services is a great opportunity."
Culver, of Rockport, Texas, said he will be based in San Marcos and work in the San Angelo area, where he will test power and control relays to ensure that power does not fluctuate for customers. Culver said he will also make sure cables are correctly placed.
"I'm really happy to be able to check someone else's work, and make sure it is correct and fix it if it isn't," Culver said. "I'm happy to be able to use my brain more than my hands."
National Field Services specializes in the maintenance, troubleshooting, engineering and disaster recovery of electrical power systems for the construction, manufacturing, petrochemical and other industries.
For more information on Texas State Technical College, go to tstc.edu.
Hurricane Harvey helped one TSTC student find a career
May 16, 2019
(ROSENBERG, Texas) – Two years ago when Hurricane Harvey devastated the Gulf Coast, Texas State Technical College student Nolen Maraman and his family lost their home to flooding, forcing them to start over, yet through it all he also found a new career.
"We had to evacuate north, in the middle of the storm," said the 22-year-old. "And as we were leaving, I saw a number of electric companies arriving. There were men and women ready to get power up and running the moment the storm moved out of our area. To me that was intriguing and brave."
Maraman would spend the next several days researching about what an electrical lineworker is and does.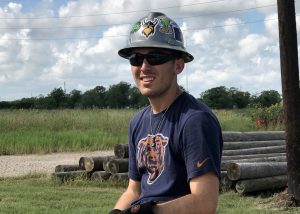 "It didn't take long for me to realize that becoming an electrical lineworker is what I wanted to do," said the Cat Spring native. "It's a career with many opportunities to offer, including the chance to help others."
There was only one thing delaying his start at TSTC, and that was his last semester at Sam Houston University, he was only a few months away from graduation.
Maraman went on to earn his bachelor's degree in business management, but he said it was only a path for him to follow, not what he wanted to do. He had found his true passion, and that was at TSTC.
"At first my family was a bit skeptical about me not pursuing a job with my degree, and returning to a technical college," he said. "But after I showed them the number of job opportunities that would be available to me, how in demand my skills would be and my projected salary, they trusted my choice and were supportive every step of the way."
He expects to graduate in August with a certificate in Electrical Lineworker Technology and said that the training he has received in his program will allow him to hit the ground running when he enters the workforce.
"I came in completely new. I knew nothing about the field," said Maraman, "But because of the program's experienced instructors and the hands-on, real-world training they provide to their students with an on-campus pole yard, I now know the foundation and the basics that I need to be a successful lineman."
Maraman added that not only has he found his passion and new career, but he has also found happiness.
"I can honestly say I'm happy now," he said. "I'm working toward a career that helps others, that I'm passionate about and that gives me room for growth."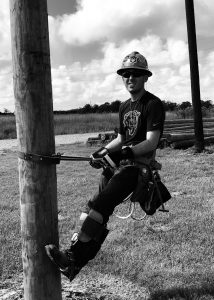 In fact, both of Maraman's parents received a technical education. His mom began her career as an emergency medical technician and his dad is an underwater welder.
"Technical education fuels our workforce," said Maraman. "In my experience, my certificate is giving me more job opportunities than my bachelor's degree, it's unbelievable."
Maraman also said that he highly recommends TSTC and the many programs being offered.
"These are life-long careers, not just jobs," he said. "And I'm excited to begin mine. And I have (Hurricane) Harvey to thank for this."
Graduates from TSTC's Electrical Lineworker Technology program, also offered at the college's Marshall and Waco campuses, can expect to be in demand for the nation's highest paying career. Texas employs more lineworkers than any other state.
According the U.S. Bureau of Labor Statistics employment of lineworkers is expected to grow eight percent, and job opportunities will be best for persons with good technical and mechanical skills. In 2018 the median annual wage was more than $70,000.
For more information on TSTC's Electrical Lineworker Technology program or to apply, visit tstc.edu.
TSTC makes history with first female lieutenant, swears in new sergeant
May 16, 2019
(HARLINGEN, Texas) – The Texas State Technical College Campus Police in Harlingen recently made history by swearing in the college's first female lieutenant, Gloria Ruiz.
"She's a pioneer. A professional in her field and one of the greatest assets to our department," said TSTC Vice Chancellor and Chief Legal Officer and General Counsel Ray Rushing. "She's a master at taking a task that is fundamental to our department and turning it into reality."
Ruiz, who has been with TSTC for 17 years, also made history in 2004 when she was the first female promoted to police sergeant, and although she has found success at TSTC, the journey was not always easy.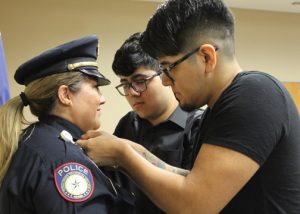 "I can't help but think how far I've come," said Ruiz. "As a high school dropout all the numbers show that I am here against all odds, but in honor of all the women who are fighting to break glass ceilings and for those who have supported and empowered me I proudly accept my new position."
She was only 19 when she began working at the Levi's Manufacturing Co. in Harlingen and said she dreaded going to work.
Then at 23-years-old she lost her first child, Gloria Ann, to a freak accident. By 26, she had her second child, a failing marriage and no high school diploma.
"This was when I realized I needed to get my general education diploma (GED)," said Ruiz. "I was 32-years-old, but I wanted hope of a better future."
At 35, Ruiz attended night classes at the police academy to fulfill her dream of becoming an officer and worked 40 to 50 hours a week as a security officer for the San Benito Consolidated Independent School District.
"This was a huge sacrifice for me and my kids, but look at me now," said Ruiz proudly. "I was one of the oldest cadets in the academy and one of only a couple of women, but I never let that stop me. Now I get to serve and protect our campus and community and even give students advice, hope and inspiration."
Not only is Ruiz celebrating her promotion, but she also recently completed her academic core at TSTC to begin working toward an associate degree in Criminal Justice.
Taking his place as TSTC Campus Police sergeant is Eduardo Becerra. He was also recently sworn into his new position.
Becerra has been with TSTC for six years, this being his first promotion within the department.
"I'm both excited and nervous for this promotion," he said. "I've wanted to be a police officer since I was about seven or eight years old and now I get to protect and serve my community. It's a great deal of responsibility, but I'm proud that my hard work was recognized and that Chief Eduardo Patino has confidence in my knowledge and experience. This will help me perform to the best of my ability."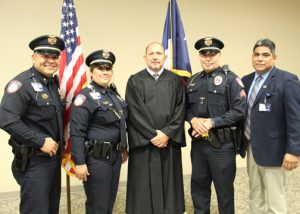 Becerra, who as sergeant now oversees nearly 10 people within the department, served three years in the United States Army and a one-year tour in Iraq before returning to his home in Brownsville.
Once home and taking time for himself and his transition back into civilian life, Becerra enrolled in the Lower Rio Grande Valley Development Council Police Academy at TSTC.
As a cadet in the academy he worked security for TSTC events, which was when Patino noticed his commitment to the field and hard work.
"By this time I was more than ready for a new career and I'm glad that TSTC gave me a chance," he said. "My experience at this college has been amazing, we're like one big family, and I'm proud that I get to protect my "family" every day while doing what I love."
He added that he looks forward to training and preparing his officers to perform their duties without hesitation while using TSTC's core values of excellence, accountability, service and integrity as a guide.
Both Ruiz and Becerra said they credit their success to TSTC Police Commissioner Aurelio Torres, Patino and their families.
"My family has been with me every step of the way and them believing in me and being proud of me has made all of the difference," said Becerra.
Sentiments echoed by Ruiz.
"What I have achieved could not have been done without the support and love of my family. Everything I've done has been for my boys and to do my best for them every single day," said Ruiz. "And also, I owe a lot to my mentor, teacher and friend Commissioner Torres for taking me under his wing."
Ruiz added that TSTC is promoted as a great place to work, but for someone like her, who actually looks forward to coming to work now, it's so much more than just a line or hashtag, it's a promise and a dream come true.
To find job opportunities at TSTC or to apply, visit tstc.jobs.
TSTC Veterans Center receives donation from American Legion
May 16, 2019
(HARLINGEN, Texas) – In a new partnership, American Legion Auxiliary Unit 205 recently presented Texas State Technical College with a check for veteran student scholarships.
The check, in the amount of $1,000, is the first donation in what will become an annual gift for the college and its veteran population.
"We have seen, first-hand, the need our veterans have when they return from the military," said Linda Correa Garcia, American Legion Auxiliary Unit 205 vice president-elect. "This is our way of giving back to the men and women who have given us so much."
Every year, the American Legion Auxiliary Unit 205, hosts a large fundraiser to raise funds for scholarships and other causes that benefit veterans and their families.
And after a meeting with The TSTC Foundation and TSTC Veteran Center Director Steve Guevara, and seeing the resources provided to students by the center, Garcia and American Legion Auxiliary Unit 205 President-elect Elizabeth Tamayo, were compelled to use a portion of the funds raised for scholarships.
"Our goal is to give our veterans the chance at a better life," said Tamayo. "To give them the opportunity of returning to school and obtaining a new career."
The funds from this donation will be used for two scholarships in the amount of $500, which can be used toward tuition, books, supplies or room and board.
All veterans enrolled at least part-time with a 2.5 grade-point average or higher are eligible to apply for the scholarship.
A committee made up of TSTC employees, who are also veterans, will review the applications and essays to select the recipients of the scholarships.
Guevara said this newly-formed partnership with the American Legion Auxiliary is great and serves as a way to provide veterans with a resource for information on educational benefits.
"Donations like these really make a large impact in the lives of our veterans," said Guevara. "Unfortunately, many veterans struggle when they return, so this allows them to make a new transition."
He added that a large portion of the veteran population at TSTC are non-traditional students with families to support, so any assistance makes a difference for their families as well.
This is why Garcia and Tamayo are also using this first donation as a way to challenge other American Legion units and posts to also donate toward TSTC veteran scholarships.
"We are spread out throughout the Valley, from Port Isabel to Mission and we want to challenge other units to contribute to TSTC veteran scholarships and match what we've donated," said Garcia. "If they are unable to match, at least contribute to a veteran's education."
Guevara said he sees this partnership growing in the future and with this growth the possibility of helping more veterans.
"With the support of Unit 205 and the challenge they have posed to others, I can see this growing," said Guevara. "We appreciate all of the help American Legion Auxiliary is giving our students and we look forward to helping more veterans accomplish their dreams."
TSTC in Harlingen has been recognized as a Military-Friendly School for eight straight years, and the college has been recognized statewide as a Military-Friendly School for four years.
The TSTC Veterans Center serves as a centralized, one-stop shop for prospective and current students who are veterans, as well as their dependents. The center assists with admission, financial aid, GI Bill and Hazlewood applications. There is also a variety of services, such as internal and external referrals, that can benefit veteran students.
In addition to the Veterans Center, TSTC also offers self-paced, competency-based learning for veterans who have gained applicable skills through their service in the military. Veterans can receive credit for these skills to move ahead on their certificate or degree plan quicker.
For more information on the Veterans Center, call 956-364-4387 or visit tstc.edu/veterans.