TSTC Pharmacy Technicians Have Local Job Opportunities
January 15, 2019
(WACO) – Before Courtney Balzadua, 27, of Waco became a pharmacy technician at the Family Health Center, she balanced working as a waitress and being the mother of a small child.

She knew she needed to make a career change.

"I wanted to be in the medical field in some way," said Balzadua, a 2015 graduate of Texas State Technical College's Pharmacy Technician program.

The need for pharmacy technicians is projected to grow nationally to more than 450,000 jobs by 2026, according to the U.S. Bureau of Labor Statistics. The agency credits the job increase to a rising need for prescription medicines. Pharmacy technicians must learn the general uses of medical drugs but cannot legally counsel patients.

TSTC's three-semester program includes classes in Drug Classification and Pharmaceutical Mathematics and an on-site clinical at a hospital, pharmacy or other medical facility like the Family Health Center.

TSTC caps each semester's Pharmacy Technician cohort at 25 students, said Colby Walters, a program instructor. She said students who enter the program need strong mathematics and memorization skills.

Program graduates can work under pharmacy training licenses for two years, Walters said. During this time, the graduates get three chances to take the Pharmacy Technician Certification Board's licensing test to continue working in the field. The graduates also undergo a background check by the Texas State Board of Pharmacy.

A public perception survey conducted by the PTCB in 2016 indicated that 85 percent of people said it was very important for people preparing prescriptions to be certified, and 74 percent of people believed pharmacies should only hire certified pharmacy technicians.

Traci Crain is a staff pharmacist at the Family Health Center's pharmacy on Providence Drive in Waco. She said she can tell within a month which pharmacy interns can adapt to the job. Some of the qualities she looks for include being able to work with others, handle criticism from customers and exhibit a solid work ethic.

The Family Health Center typically hires two interns each semester. Crain said interns start out sacking prescriptions for customers. She said interacting with the staff enables the students to understand the pharmacy language. Eventually interns can advance to working on registers and helping customers.

"It's not uncommon to get hired before they graduate," Walters said.

Jennifer Herrera, 34, of Waco graduated in 2005 from TSTC's Pharmacy Technician program and has been working at the Family Health Center since she was an intern.

"This is in a low-income area," she said. "I don't see myself as different from any of our patients. I fell in love with the environment."

Herrera often works with clients in both Spanish and English.

"You do have to be careful because certain words can mean different things," she said.

The Family Health Center has 16 locations in Bell and McLennan counties. There are about 20 employees who work at the pharmacy from Monday to Friday. Overall, the Waco location fills an average of 700 prescriptions per day.

For more information on Texas State Technical College, go to tstc.edu.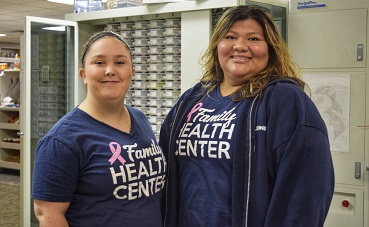 Student Success Profile – Jonathan Collins
January 14, 2019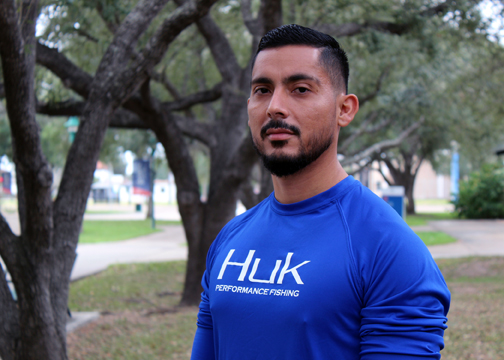 Jonathan Collins is anArchitectural Design and Engineering Graphics student at Texas State TechnicalCollege.
The 30-year-old spentfive years in the Marines, with a deployment to Afghanistan before returninghome to Harlingen.
The father of twoexpects to earn his associate degree this semester and is active on campus,serving as president of his program's club and volunteering with TSTC'sVeterans Center.
What are your plansafter graduation?
After I graduate, myfamily and I will be moving to Fort Worth; it's a popular market for draftersand engineers. I will also look into enrolling at TSTC in North Texas to pursuean associate degree in Precision Machining Technology.
What's your dream job?
With the degree I'mabout to earn, there are so many career paths I can choose. Right now I'minterested in working in the Geographic Information System (GIS) path, butultimately I hope to become a civil or mechanical engineer.
What has been yourgreatest accomplishment while at TSTC?
My greatestaccomplishment is being this close to finishing and finally earning my degree.I can see the light at the end of the tunnel.
What greatest lessonhave you learned about yourself or life?
The greatest lesson Ihave learned is that there is always room for improvement. I left the militarywith so much knowledge, but coming back to school has helped me realize thatthere's still so much to learn.
Who at TSTC has had themost influence on your success?
All of my instructorshave influenced my success. They all have industry experience and share thatwith us so we learn all aspects of the field. It's encouraging to see how muchthey truly want us to succeed.
What is your advice forfuture TSTC students?
My advice for futureTSTC students is immerse yourself in your chosen field and career path. Getinvolved in learning it outside of the classroom by job shadowing or completinginternships; it's a game changer.
TSTC agricultural program introduces drone technology
January 14, 2019
(HARLINGEN) – Drone technology is revolutionizing the field of agriculture, and to ensure that students' skills meet industry standards, Texas State Technical College's Agricultural Technology program recently implemented drone training into its curriculum.
"Drones, or unmannedaerial vehicles, are transforming the way work gets done out in the field,"said TSTC Agricultural Technology instructor Sheren Farag. "And it's importantthat our students are introduced and trained to this technology because it'sthe present and the future."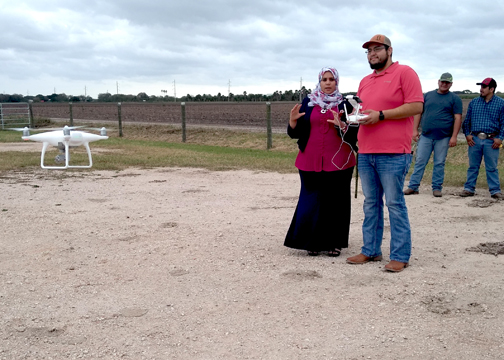 When she joined theinstructional team in Fall 2018, Farag was able to offer extensivedrone-related experience and qualifications that helped the program realize alongtime goal of incorporating the study of drones into its curriculum.
Agricultural Technologydepartment chair and instructor Sammy Gavito said exploring new technologicaladvances used in different phases of agriculture is something he wants his studentsto be exposed to.
"Technology isconstantly evolving, and we need to keep up with it and continue moving forwardso that our students remain employable," said Gavito. "Drones are changing themethods of agriculture operations, and this training will diversify ourstudents' opportunities."
Students in the programhave access to six industry-standard drones: five DJI Phantom 4 Pros and onemultispectral drone.
The drones have alreadybeen introduced in several courses, including Crop Science, Horticultural FoodCrops, Agricultural Records Management, and Forage and Pasture Management.
Students learn how tomanually fly the drones and perform simple equipment maintenance, calibrationand camera repairs. They also learn how to use the drone software and phoneapplications, and how to interpret data and map coordinates.
Two new drone-focusedclasses will be introduced in coming semesters. Introduction to GeographicInformation Systems (GIS) will be available in Fall 2019, followed by GISApplications in Spring 2020.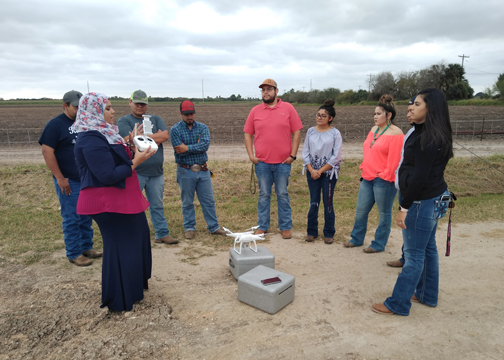 The drone training thatstudents receive at TSTC prepares them to obtain a Remote Pilot Certificatethrough the Federal Aviation Administration after graduation.
"Learning thistechnology now is essential and crucial to these students' finding high-payingjobs when they graduate," said Farag. "This training will open doors for themand make them more marketable in the agriculture field."
Students are learningthat drone technology is an efficient way to improve production in theagriculture industry.
Drones help map andsurvey land, prepare for future growing and harvest seasons, identity cropissues, manage irrigation, dust and spray crops, and monitor livestock.
Information gatheredfrom done photos and videos can be used to save time and money, and producehigher crop yields.
Wally Santamaria, anAgricultural Technology student who plans to graduate with an associate degreethis semester, said he is glad that drone technology was introduced in theprogram because it has created more opportunities for him.
"Before last semester, Ihad heard about drones but had never used one before. It's safe to say it'sbeen pretty exciting," said Santamaria. "And with the training I have received,I now have a leg up over other students in other programs who have not receivedthis type of opportunity."
The 20-year-old addedthat learning the benefits of using technology in agriculture has changed hisperspective.
"Now that I've useddrones to get research and analysis done, I don't know if I'll be able to goback," he said with a laugh. "This will definitely be beneficial to my future."
Farag and Gavito agreethat studying drone technology makes for well-rounded graduates.
"If our students don'tlearn this technology now, they won't be able to work in the field. This is thefuture," said Farag. "This training will allow our graduates to work anywhere."
For more information onAgricultural Technology, visit tstc.edu.
TSTC alum brews her way to success
January 14, 2019
(HARLINGEN) – From serving as president of the Texas State Technical College Student Government Association to being president and chief executive officer of her own coffee and food catering business, Café Canasto, Johanna Lozano has come a long way.
Lozano recently cateredthe SGA Open House for TSTC's Spring 2019 Welcome Week and provided specialtyColombian coffees, hot chocolate and cuisine to the delight of visitors,students, faculty and staff.
"It feels so surrealbeing back as a business owner," said Lozano. "All my dreams are coming true,and I credit the education I got at TSTC for a large part of myaccomplishments."
The 33-year-old, with abackground in bilingual education, came to the United States from Colombia andsettled in Massachusetts in 2004.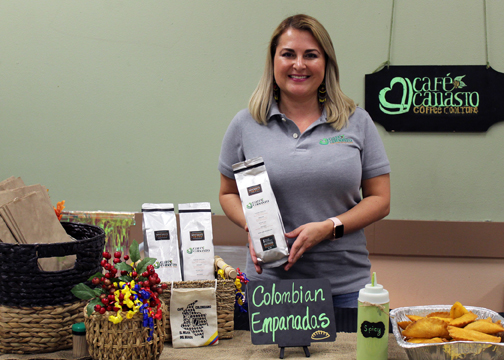 With an entrepreneurialspirit and a dream, Lozano earned an associate degree in marketing and businessanalytics from Johnson & Wales University in 2012.
"A coffee shop issomething I've always wanted," said Lozano. "Management and business for me isa passion."
Having grown up inColombia on a coffee farm, opening a specialty coffee shop just made sense toLozano.
When she and her husbandrelocated to Harlingen, Lozano enrolled in TSTC's Business ManagementTechnology program. She ended up getting a lot more than she bargained for.
"TSTC not only taught mebusiness, but also leadership," she said. "I was given so many opportunities toget involved on campus and in my community that it all laid a foundation forwhat I'm doing now."
As a student at TSTC,Lozano served as secretary and president of the SGA; served in the TSTC ServiceSquad, earning a President's Volunteer Service Award for more than 500 hours ofcommunity service; and served in the TSTC Leadership Academy and in LeadershipHarlingen.
"I am so grateful forthe support I continue to receive from TSTC," she said. "All of theseexperiences allowed me to meet new people and make new friends. It has allopened so many doors for me."
Lozano graduated fromTSTC with an associate degree in 2015, and because of her leadership roles oncampus, she had the opportunity to sit on the boards of Keep HarlingenBeautiful and the Harlingen Economic Development Corporation.
Shortly after graduatingand saving up some money, Lozano took her education and leadership experienceto begin the planning phase of opening Café Canasto with the help of theWomen's Business Center in Brownsville, the Small Business Administration inHarlingen, and the University of Texas Rio Grande Valley's Adopt a Startupprogram.
"It still feels like I'mdreaming," said Lozano. "All of the research, planning, every business trip toColombia, and blood, sweat and tears are beginning to pay off."
Lozano said she is proudof her Colombian heritage, which is the reason her business is named CaféCanasto.
"Canasto is the basketthe coffee farmers put the coffee beans in when they're picked. And since I'mimporting my coffee from Colombia, I want my business to pay homage to theirhard work," said Lozano.
Lozano's cateringbusiness is gaining popularity among folks in the Rio Grande Valley and beyond.
Besides the specialtycoffees Lozano serves, she also has a menu of Colombian cuisine consisting ofchicken and beef empanadas, chorizo and beef arepas, and desserts.
"We want to offer ourcustomers more than just a menu — we want to offer them a Colombianexperience," said Lozano. "We want them to feel, if even just for a moment,like they're in Colombia."
Although starting abusiness hasn't been without its challenges, Lozano said it is her supportsystem that keeps her going.
"I have received so muchsupport from my community, family and husband in this endeavor that even when Icome upon challenges, they're not so bad because of the people I have by myside," said Lozano. "And I hope to continue catering at TSTC because I'm soproud that it's my alma mater, and I hope that my story can help other students."
McGregor Students Find Their Passion for Learning at TSTC
January 11, 2019
(WACO) – Christina Pace is elevating her creativity through digital art.

Pace, 23, of McGregor designs fliers for Texas State Technical College in Waco's Visual Art Society, which includes other TSTC Visual Communication Technology majors. It is practice for her future career in graphic design.

As she pursues her endeavors and studies, Pace finds motivation from others.

"It's being able to be creative and work on my assignments and be surrounded by those who do the same," she said.

Pace graduated in 2014 from McGregor High School and went on to earn an associate degree in art in 2016 from Temple College. At the time, she said she knew she needed to earn another degree.

Pace began classes in fall 2017 at TSTC. She said her art classes have helped her be a better artist as she uses concepts for space and composition and learns about Adobe's creative platforms.

Pace is among more than 25 students from McGregor currently taking classes at TSTC in Waco.

Meanwhile, many students attending McGregor High School are partaking in career and technical education offerings that can lead to fruitful careers. The Texas Education Agency's Texas Academic Performance Report for 2017-18 indicated that the McGregor Independent School District had more than 370 students in the program.

"We have made a big push in the last few years to expand our career and technical education programs," said Seth Fortenberry, principal of McGregor High School. "We have a very strong construction and welding program at the high school where students have the opportunity to earn certifications prior to graduation."

Fortenberry said the robotics program combines design, electronics and engineering for students to ultimately launch their own two rockets at the end of the school year.

"One rocket is built to carry a 1-pound payload one mile high, and the other is built to break the sound barrier," he said.

Fortenberry said more courses could be added in the future for students to study drones and automotives.

"Two-year colleges are definitely an option for students," he said. "We push them very hard to continue on into postsecondary education no matter the length, and many do end up choosing TSTC."

Adrian Siller, 28, of Waco did not attend high school in McGregor but calls it home. He has traded in the study of sciences for suspensions.

Siller is working toward an Automotive Technology – Toyota Technician Training and Education Network, or T-TEN, specialization certificate at TSTC and is scheduled to graduate in summer 2020.

"I have always liked automobiles," he said. "I did research on manufacturers and learned about Toyota."

Siller shifted into studying the automotive field after earning a bachelor's degree in anthropology in 2014 from Texas A&M University. He said understanding the lectures and research processes during his first time in college has helped him at TSTC.

Siller has enjoyed the hands-on work on vehicles in the Transportation Technology Center's T-TEN lab. His favorite lessons so far have dealt with testing and diagnosing electrical system problems.

Siller said his goal is to graduate from TSTC and then pursue a physics or mathematics degree. He wants to apply the technical and academic combination either to work in the automotive industry or to teach.

"This career will definitely take me to opportunities in a big city," Siller said. "Right now I am eyeballing Austin."

For more information on Texas State Technical College, go to tstc.edu.