(HARLINGEN, Texas) – In observance of National Police Woman Day on Sept. 12, Texas State Technical College honors three of its officers for their contributions to law enforcement.
TSTC police officers Ruth Erwin, Camryn Gonzalez and TSTC Police Lieutenant Gloria Ruiz are being recognized for protecting the TSTC college community.
Erwin became interested in law enforcement at a young age.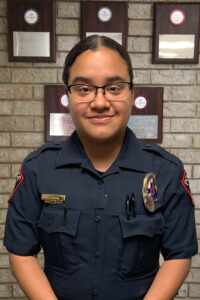 "I knew I wanted to be active in a career field, and law enforcement appealed to me," Erwin said. "The TSTC Police Department is the first police force that I have worked for. I am grateful they helped launch my career."
Erwin said she enjoys making a difference in people's lives.
"Although it can be a minor interaction, it brings me gratification," she said. "My advice to other women pursuing a career in law enforcement is to never give up. You are much stronger than you think. There will be ups and downs along the way, but you can push through."
Gonzalez joined law enforcement to protect others and improve area communities.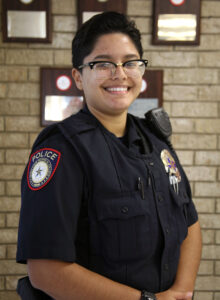 "I always knew law enforcement was the way I could achieve that," she said. "I am a TSTC alumna. I had always wanted to return to work in this family-oriented workplace."
Gonzalez graduated from the Lower Rio Grande Valley Development Council Regional Police Academy in 2021. She accepted a job opportunity with the Pearland Police Department and gained experience. Then a recent dream-job opportunity to join the TSTC Police Department became a reality.
"What I love most about the TSTC Police Department is the family environment they uphold," she said. "I have been a TSTC police officer for a period of time. It is the best job opportunity I have ever accepted. The amount of care, love and family environment is like no other. The training, expertise and attention to detail is immaculate."
She offered some advice for women who are interested in pursuing a law enforcement career.
"This path may not be easy, but do not give up," she said. "If you put your mind to it, anything can be accomplished. We are strong, independent, intelligent and fierce."
Ruiz's interest in law enforcement was initiated because she is a family violence survivor.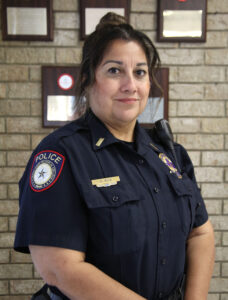 "I felt that I could be the voice for those victims that are traumatized through threats and violence," Ruiz said. "My desire to encourage and inspire others is a primary reason I became a police officer."
Ruiz has worked with the TSTC Police Department for 21 years. She has held the positions of police officer, sergeant and now lieutenant.
"My daily goal as an administrator is to honor the oath as police officers, and work on maintaining the highest ethical and professional standards in the workplace," she said. "My advice for females interested in law enforcement is to never stop learning. A law enforcement career at an institution of higher education builds you on professionalism and leadership skills. The TSTC Police Department developed and prepared me for succession planning. Now I am paying it forward and sharing my knowledge with others."
TSTC Police Chief Eduardo Patino said building a culture around TSTC's core values of excellence, accountability, service and integrity begins with being mindful and respectful of the biggest obstacle for female officers.
"That obstacle is in the ability to balance work, family life and all other primary roles," Patino said. "National Police Woman Day is a great way to demonstrate appreciation to all female officers in law enforcement for their commitment and devotion, while inspiring others to join this profession. Not only do they provide stability, they bring value to the TSTC Police Department."
For more information about TSTC, visit tstc.edu.