(MARSHALL, Texas) – The instructors and staff of Texas State Technical College's Marshall campus dedicate themselves to the school and their students by working to reach the college's goal of placing more Texans in great-paying jobs.
For some of them, the work does not stop at 5 p.m. It simply changes.
Veronique Ramirez, a Student Services representative, said her drive for excitement and service fuels her. In addition to her work at TSTC and being a mother, Ramirez has been a volunteer firefighter with the Waskom Volunteer Fire Department since August 2022.
"I find joy in serving others and keeping them safe," Ramirez said. "I think what appeals to me the most about these types of positions is knowing that I can take care of someone if they're in need."
Ramirez graduated from the Kilgore College Fire Academy in May 2023. She hopes to become a certified emergency medical technician by next year.
"By being a firefighter, I realize that my achievements do not have to be limited by what is expected, but rather exceeded by what could be achieved," Ramirez said. "Therefore, I hope to be an inspiration to my daughter and TSTC students, showing them there are no boundaries in what they can do."
Sara Whitaker, a student recruitment representative, continues to lend a hand outside of TSTC. Her life changed after attending the theater school at DePaul University in Chicago. She, along with her parents, operate East Texas Performing Arts, a non-profit organization which has offered performance opportunities to students for more than 12 years.
"When I moved to Texas in 2009, I was shocked at the lack of performance arts opportunities that were available in high school," Whitaker said. "The plays that I choose to direct are family friendly and have a redemptive quality."
Whitaker has directed, choreographed and acted in over 20 productions. She has written two plays herself — "Heart of Flesh" and "The Throwaway Children." In 2016, East Texas Performing Arts was named the Non-Profit Member of the Year by the Marion County Chamber of Commerce.
"I love being a recruiter because I go into classrooms now to talk about TSTC and to present opportunities that don't exist," Whitaker said. "That's the reason I started my theater company, to provide opportunities for young people that I didn't see."
Asa Goolsbee, a Welding Technology instructor, has a passion for creativity with construction projects around his home while using recycled materials like his grandfather did in the past.
In his spare time, Goolsbee has constructed a bathroom for his workshop using 100-year-old barnwood, a mezzanine deck out of hay baler parts, a windmill to pump water for his cattle and reflooring the bridges over his pond from fallen trees. He often jokes with his students that he works at home and being an instructor is his hobby.
"It's fun just being able to go and grab old, antique equipment or something that no one wants anymore and turn it into something that works again," Goolsbee said. "It looks like junk, but it's functional junk."
Goolsbee, his wife and his son are currently converting a school bus into a traveling house to use on road trips.
Registration for the spring semester is currently underway. For more information, visit tstc.edu.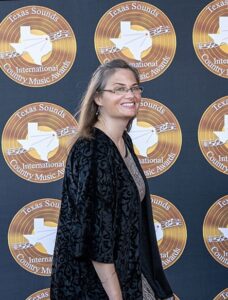 Sara Whitaker, a TSTC student recruitment representative and president of East Texas Performing Arts, is pictured on the red carpet at the Texas Sounds International Country Music Awards on Oct. 18 at Memorial City Hall in Marshall. (Photo courtesy of Sara Whitaker.)