(HARLINGEN, Texas) – Great things are happening at Texas State Technical College, and the Precision Machining Technology program at TSTC's Harlingen campus will incorporate some of the latest equipment into its curriculum for the fall 2022 semester.
A new Haas UMC-500 computer numerical control (CNC) 5-axis machine, and two new lathe mechanisms, will be utilized to educate students through hands-on training.
"The sophisticated equipment was purchased from Haas Automation Inc. and will be used to make more intricate parts," said Francisco Garcia, a TSTC Precision Machining Technology instructor. "It will better prepare the students through efficiency with one setup instead of multiple."
The new machines will provide a boost to student success, especially for those who are nearing the program's completion.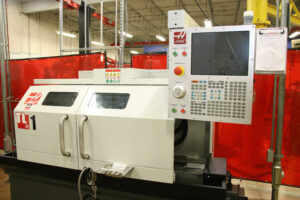 Garcia added that the program will also have an advanced computer-aided manufacturing course available this fall semester.
"The advanced class will have a Mastercam software to design and generate codes that will be used to manufacture a part," he said. "It will align with the agenda that pertains to the UMC-500 equipment."
Isaac Gonzalez, TSTC's Precision Machining Technology statewide department chair, said the new equipment has established a new direction for the program's future.
"The new equipment will meet industry demands and stay ahead of the technology curve," he said. "TSTC Precision Machining Technology students must be elite and marketable for tomorrow's employers. (The equipment) will provide a new credential as they enter the workforce and lead to high-paying careers."
In Texas, CNC tool programmers can earn $59,680 per year, according to onetonline.org.
TSTC offers an Associate of Applied Science degree and a certificate of completion in Precision Machining Technology, as well as a certificate of completion in Machining, at its East Williamson County, Fort Bend County, Harlingen, Marshall, North Texas and Waco campuses. A Basic Machining occupational skills achievement award is available at the Fort Bend County, Marshall and Waco campuses.
TSTC is so confident that the training its students receive during this program will culminate in a job that Precision Machining Technology is part of the college's Money-Back Guarantee. If graduates do not get hired in their field within six months after earning their degree, TSTC will refund their tuition.
Registration for the fall semester is underway. For more information, visit tstc.edu.