(HARLINGEN, Texas) – There is growing demand for jobs for machinists and welders in modern engineering and manufacturing. This offers an excellent career outlook for students at Texas State Technical College who seek to fill those positions.
In observance of Manufacturing Day on Friday, Oct. 7, TSTC recognizes its Precision Machining Technology and Welding Technology programs for ensuring that students receive the hands-on training required for success in the Texas workforce.
The Precision Machining Technology program teaches students about safety, cutting speeds and feeds, tooling, different types of machining, and other components.
"Our students are held to a high standard," said Francisco Garcia, a TSTC Precision Machining Technology instructor. "This program creates a well-rounded individual to earn a great-paying career in the workforce."
Garcia said his students learn various techniques that meet industry standards.
"They are trained in manual machining, computer numerical controlled (CNC) machining, manual programming, computer-aided drafting, computer-aid manufacturing, blueprint reading, and proper use of measuring tools," Garcia said. "These skills allow the individual to receive a blueprint, interpret it, and produce the part from start to finish."
Garcia said Manufacturing Day shines a light on the importance of manufacturing.
"Everything has to go through a machine shop," he said. "Machinists either create a finished product or make the machines to produce the product."
Alfredo Aldape, of Brownsville, is pursuing an Associate of Applied Science degree in Precision Machining Technology. The fourth-semester student, who is projected to graduate in December, said he is ready to begin his career.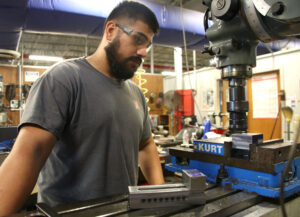 "The program has trained me well, and I have learned a lot," Aldape said. "I'm able to utilize various machines. I have the experience to do manual machining and also program a CNC machine. I can read blueprints to machine the parts, and I'm able to work independently."
The Welding Technology program educates its students on four main areas used in the industry: shielded metal arc, gas tungsten arc, flux-cored arc and gas metal arc welding processes.
"Blueprint reading, layout and fabrication, and welding automation are included," said Manuel Ahumada, a TSTC Welding Technology instructor. "Our students touch base on all major processes, using different welding procedures. We also teach structural and pipe fitment, as well as the use of automated and mechanized welding systems."
Ahumada said the program continues to include the latest welding equipment and techniques.
"We have introduced new areas in the program to simulate real-world experiences," he said.
Ahumada said Manufacturing Day helps promote the importance of welding and signifies that the profession will always be in high demand.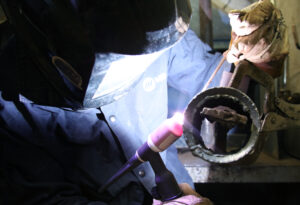 Jonathan Anguiano, of Weslaco, is pursuing a certificate of completion in Structural Welding. The fourth-semester student said the program has molded him in many ways.
"It taught me to work hard because companies that will hire us expect us to know how to weld," he said.
For more information about TSTC, visit tstc.edu.