(HARLINGEN, Texas) – Texas State Technical College prides itself on its core values of excellence, accountability, service and integrity, and it recognizes individuals every year who help achieve its mission of placing more Texans in great-paying jobs.
Jessica Ybarra-Almaraz, Juan Lucio and Rebeca Villanueva-Hernandez are TSTC employees who were recently recognized as recipients of the college's 2022 Chancellor's Cornerstone Awards for the Harlingen campus.
What makes this award special is that the recipients were nominated by their colleagues.
Amanda Posada, provost at TSTC's Harlingen campus and the college's statewide dual enrollment executive director, said recognizing fellow Harlingen campus teammates with the prestigious awards is a privilege.
"Having the opportunity to acknowledge Jessica, Juan and Rebeca for not only displaying a consistent commitment to TSTC's core values, but also demonstrating a passion for their roles as an integral part of the TSTC community, is an honor" she said. "Their service to our students is not only appreciated, but admired."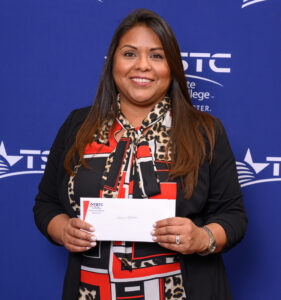 Ybarra-Almaraz, an instructional technologist of online learning, has been with TSTC for 24 years and handles Canvas, the college's learning management system that students utilize.
She said it was a surprise to learn about the recognition.
"I am honored that my peers trust me and know they can count on me," she said. "What motivates me is seeing the continued success of our faculty. I get to see their growth as educators. As for the students who graduate, they return not only to discuss their career success, but also to tell us they're continuing their education."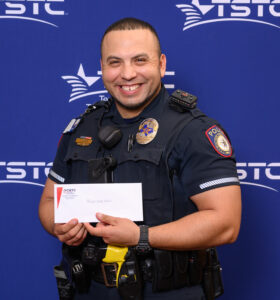 Lucio has been an officer with the TSTC Police Department for two years. He provides safety and security by fostering a positive and safe environment for the TSTC community.
"I am overwhelmed with joy and pride that I am part of TSTC," he said. "This institution has been the foundation of my career in law enforcement. I have been chosen to be part of a family-oriented environment where I can flourish in my skills, drive and humility. I have learned to be disciplined, humble and never give up. My wife is my support system and allows me to pursue my goals."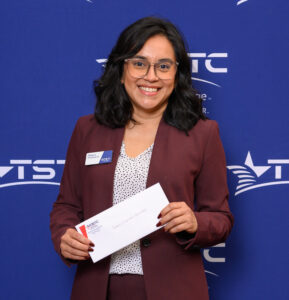 Villanueva-Hernandez, TSTC's enrollment executive in Harlingen, has been with the college for nearly three years. She oversees the enrollment of students in their programs of study.
"It's a huge compliment that my peers recognized my hard work and commitment to our values," she said. "We get to see so many students who are looking for a chance in higher education. We see them when they first enroll, then they cross the stage at graduation and, ultimately, they get hired. It's rewarding to know that you're part of that journey, and it's life-changing."
For more information about TSTC, visit tstc.edu.