Application Deadlines

Application period for Breckenridge, Sweetwater & Harlingen:
8/7/23–10/27/23
Information Sessions:

Harlingen
West Texas

Spring 2024 LVN to ADN Transition Program
Application period for Harlingen & Sweetwater: 8/7/23-10/27/23
Information Sessions:
Harlingen
Breckenridge and Sweetwater
Program Requirements
Have all official transcripts of courses taken from other colleges sent to Texas State Technical College and reviewed by Admissions.
Submit a copy of picture ID (driver's license or state issued ID) and Social Security card.
Must be able to pass a FBI background check and 10 panel drug screen (Applicant will receive further instructions after they have applied to the VN program).
All immunizations must be current including Hepatitis B series, MMR series, Varicella, TDap, Meningococcal vaccine, Influenza, and TB.
Anatomy and Physiology I & II, Medical Terminology, Medical Administration must be no older than 5 years to transfer in.
Must take TEAS exam at least once before acceptance into the program. Must have passed all four sections before first class day.
Application Process
Apply for general acceptance to Texas State Technical College Sweetwater or Breckenridge by submission of Admission Application. Applicants may click here to apply.
Request official sealed copy of your high school transcript or your GED diploma to the Admissions and Records Office. If you received your GED in Texas and need an official diploma, call the Texas Education Agency (TEA) at 512-463-9292 to obtain one.
Submit an official college transcript from all previously attended colleges to the New Student Admissions Office. The college transcript(s) must be an official transcript – imprinted with the college's seal and delivered in a sealed envelope.
Vocational Nursing program is a 16-month program with the first semester courses being completed before application into the program. West Texas has one intake per year to begin in the spring semester. The deadline for submission of completed packets is listed in the Application Packet.
Complete financial aid application. (We recommend that you apply at least four months prior to registration.) If you are applying for federal financial aid, complete the "Free Application for Federal Student Aid" (FAFSA) for the Pell Grant and other financial aid and submit it to the federal processor. Contact the Financial Aid Office for more information on other grants, scholarships, student loans or sponsoring agencies such as WIA or DARS. Veterans wanting to use their VA benefits should contact their local VA Certification Officer on campus. The "Free Application for Federal Student Aid" can be found at FAFSA
In Fall 2013, the Texas Success Initiative (TSI) Assessment established new college readiness standards for incoming students. The TSI Assessment is designed to help determine if students are ready for college-level coursework in the general areas of reading, writing and math. If the student does not meet testing requirements, the assessment will also help with student placement in courses that will aid in the preparation of student skills for college-level classes. For questions, please call 325-235-7441, Counseling and Testing.
Applicants to the VN Program must take the TEAS (Test of Essential Academic Skills) Entrance Exam, consisting of four sections; reading, math, science and English. Information about the TEAS Study Guide Version 6.0 can be found at http://www.atitesting.com/ati_store/product.aspx?zpid=1175 . Complete information about the TEAS test is included in the application packet.
Courses to be considered for transfer credit must be submitted on an official sealed college transcript. Courses which are not identical with the catalog listing of courses or equivalent in the common course numbering system require a request for substitution form to be completed by the nursing department. The student must request this substitution and provide all official transcripts before requests.
Submit COMPLETE VN APPLICATION packet as instructed in the application package.
Applicants will be considered on an admission rating scale. See application packet for details.
Criminal background checks are required for students involved directly with clients in clinical facilities and by the Texas Board of Nursing for licensure. To pass the nursing courses involved in this program, you must complete clinical rotations at these sites. If you refuse or for any reason cannot complete this background check, or information received during this check is deemed unacceptable by the Board of Nursing and you will be refused access to a clinical facility, you will be ineligible for clinical participation and dismissed from the program due to inability to meet clinical objectives.
Information on the procedure for obtaining a CBC and fingerprinting is available in the application packet. The Board of Nursing will issue a code and a form to be used for the fingerprinting. Prints from any other source or without the BON code will not be accepted.
DO NOT COMPLETE A BACKGROUND CHECK PRIOR TO APPLICATION. You will be notified when it is time to have your prints made. If, however, you answer yes to any of the board questions on page 16 of the packet, you should begin the declaratory order procedure.
Employment at many healthcare facilities and agencies require mandatory drug screening. Vocational Nursing students will be required to undergo a random drug screen prior to beginning clinical experiences and at any point during the program at the discretion of the Program Chair and/or Instructor. Failure to take or pass this drug test will result in inability to complete required clinical rotations.
Limited numbers of students are accepted in this program. The admission rating scale and application packet criteria will be used to determine acceptance. All candidates will be notified via email regarding admission status. ** Not all qualified candidates may be accepted.
Some students not selected will be notified that they are alternates. Students on the alternate list may be admitted if space becomes available.
Accepted applicants will be notified of the date, time and place to attend the MANDATORY ORIENTATION. Those accepted and not attending or arriving late to the orientation will automatically be dropped from consideration.
For more information call 325-734-3644.
Harlingen
The ATI-TEAS exam is used as part of the admission process for the Vocational Nursing program. This exam is available and should be taken at any of the TSTC Testing Centers. Applicants to this program should schedule a testing time. Complete program requirements are in the Information Download section.
Information Downloads
LVN to ADN (RN) Transition Program
You must be a Licensed Vocational Nurse to apply for this program.
Please view our Program Requirements (PDF) for more information.
More Information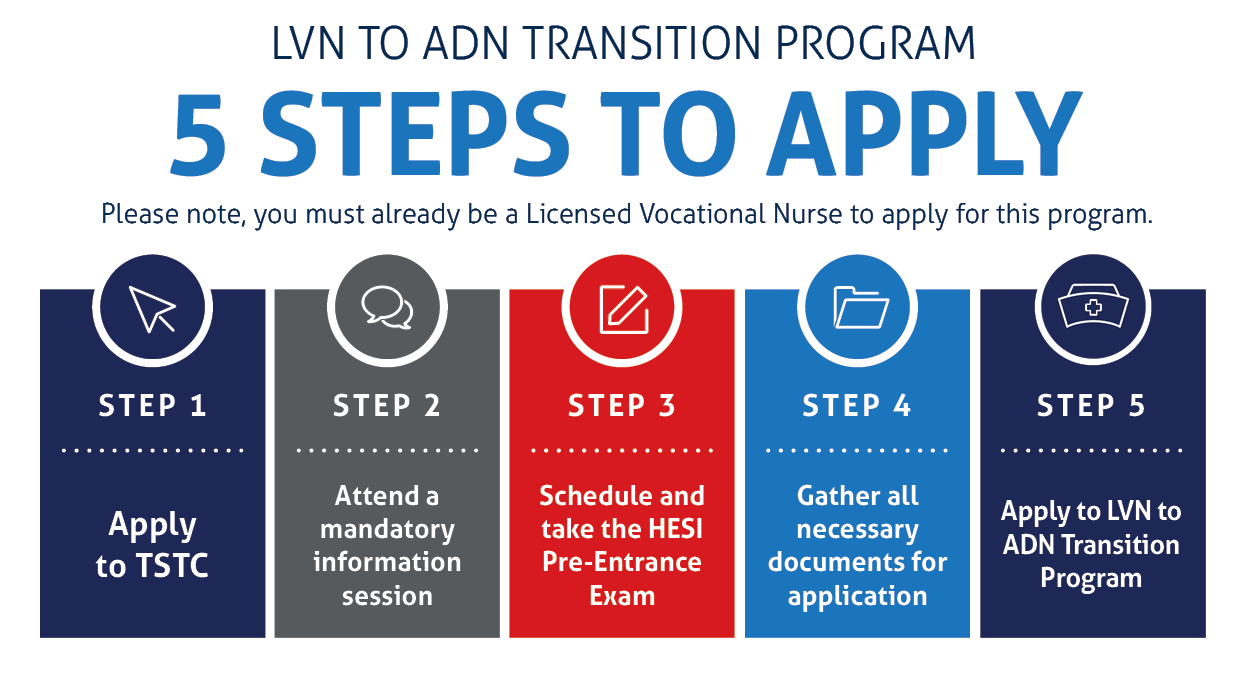 For more information on the LVN to ADN transition program please reach out to a representative at a campus near you:
Harlingen
Tanya Villarreal, Departmental Secretary
tanya.villarreal@tstc.edu
956-364-4690
Adrienne Reyes, MSN, RN, Program Director
956-364-4994
adrienne.reyes@tstc.edu
Sweetwater
Mary Wilhite, Allied Health Student Services Specialist
mary.wilhite@tstc.edu
325-734-3644
Adrienne Reyes, MSN, RN, Interim Program Director
956-364-4994
adrienne.reyes@tstc.edu
Wendy Proctor, MSN, RN, Interim Assistant Program Director
325-236-8264
winona.proctor@tstc.edu